Western Digital unveils affordable and fast Black 3D NVMe SSD with up to 1TB capacity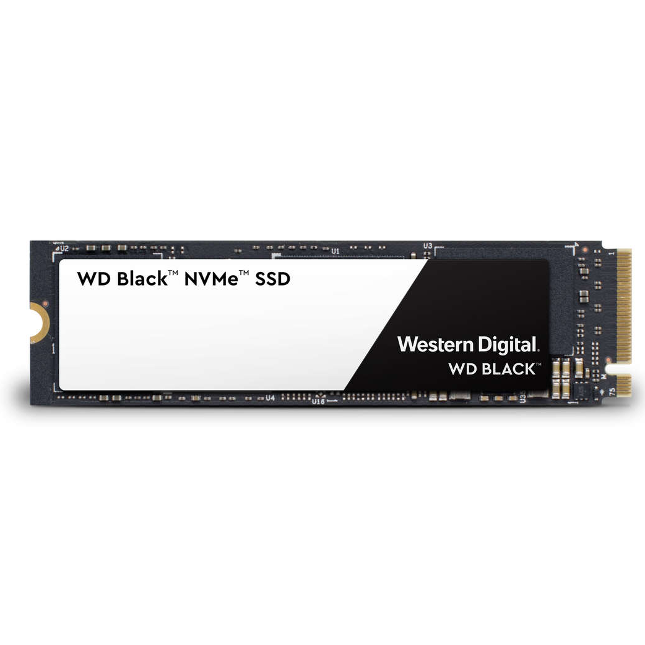 While prices for NVMe solid state drives are dropping, it is important to remember that all such drives are not created equally. We recently shared a new Kingston NVMe drive with you -- the A1000 -- and while I am sure it's a fine product, it only uses PCIe Gen 3.0 x2, making it slower than drives utilizing x4. Consumers will have to decide if the speed trade-off is worth any potential savings.
Today, Western Digital launches the Black 3D NVMe SSD, and it looks amazing. While it is affordable, like the aforementioned Kingston drive, it uses PCIe Gen 3.0 x4, giving it insane performance. In other words, with this drive, you don't have to sacrifice speed for savings.
"With growing demand for rich content, PCs must have the capability to run intensive applications and enable the 4K/Ultra HD graphics and video content experiences. To move this immense amount of data quickly and seamlessly, Western Digital developed a new breed of SSDs to help remove the traditional storage bottleneck. This M.2 drive features a new NVMe architecture and controller, which optimally integrates with Western Digital 3D NAND. Western Digital's new vertically integrated SSD platform was engineered from the ground up, specifically architected to help maximize performance for NVMe SSDs, with advanced power management, durability and endurance for the growing range of applications benefiting from NVMe technology," says Western Digital.
ALSO READ: Western Digital My Book Duo 20TB USB-C external RAID hard disk drive [Review]
The company further says, "With exceptional sequential read (up to 3,400 MB/s for 1TB and 500GB model) and write performance (up to 2,800 MB/s for 1TB model) combined with up to 1TB capacities, the new drive is ideal for enhancing user experiences in gaming environments that benefit from acceleration of intensive fast data. Additionally, the drives feature up to 500,000 random-read IOPs (for 1TB model) to deliver extreme throughput, which is ideal for multi-threaded applications and data-intensive multitasking environments. The drive offers a five-year limited warranty with up to 600TBW endurance (for 1TB model)."
Western Digital shares the following performance details, which vary based on capacity.
Sequential Read/Write
1TB: Up to 3,400 MB/s Read, Up to 2,800 MB/s Write
500GB: Up to 3,400 MB/s Read, Up to 2,500 MB/s Write
250GB: Up to 3,000 MB/s Read, Up to 1,600 MB/s Write
Random Read/Write
1TB: Up to 500,000 IOPS Read, Up to 400,000 IOPS Write
500GB: Up to 410,000 IOPS Read, Up to 330,000 IOPS Write
250GB: Up to 220,000 IOPS Read, Up to 170,000 IOPS Write
Pricing is very competitive -- the 250GB variant is $119.99, the 500GB model is $229.99, and the 1TB drive is $449.99. Best of all, it will be available in the middle of this month, so you won't have to wait long. You should start seeing it at popular retailers like Newegg and Amazon very soon.