Western Digital unveils 14TB Ultrastar DC HC530 CMR data center hard drive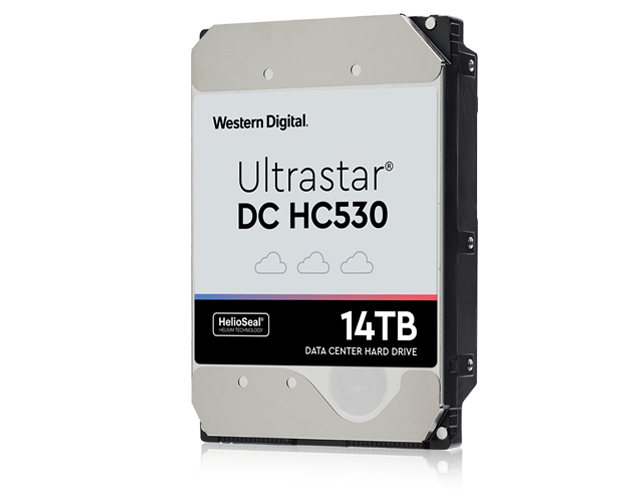 Solid state drives are in the future of computing, while hard disk drives are the past. With that said, despite being destined for the history books, HDDs are still a big part of the present. In other words, despite being older technology, mechanical hard drives definitely have their place these days. Why? Well, they offer huge capacities at affordable prices. True, solid state drives are dropping in price, but they still aren't financially feasible for data centers, for instance. SSDs will get there eventually, but for now, hard drives live on.
Amazingly, some manufacturers are still pushing the HDD envelope, delivering ever-increasing capacities. For instance, today, Western Digital -- one of the most respected storage companies -- announces a new 14TB HDD called "Ultrastar DC HC530." While that storage capacity has been done before, this is the first 14TB drive to use conventional magnetic recording (CMR).
"A follow-on to the industry's first 14TB SMR (shingled magnetic recording) drive, the Ultrastar DC HC530 is a 14TB CMR drive that delivers drop-in simplicity for random write workloads in enterprise and cloud data centers. Since 2014, the company's unique, patented HelioSeal process seals helium in the drive to provide unbeatable capacity, exceptional power efficiency and long-term data center reliability. Its low-power design does not compromise performance, while contributing to its overall TCO advantages," says Western Digital.
ALSO READ: Western Digital unveils affordable and fast Black 3D NVMe SSD with up to 1TB capacity
The famed company further says, "Features like TDMR technology (two-dimensional magnetic recording) and a third-generation dual-stage microactuator work together to enhance head-positioning accuracy and deliver better performance, data integrity and overall drive reliability, critical in multi-drive environments where operational vibration is present. A choice of 6Gb/s SATA or 12Gb/s SAS interface enables easy integration into high performance data centers. Trust Western Digital and the Ultrastar DC HC530 hard drive to deliver more capacity, more efficiency, more reliability and more value to your data center."
Western Digital shares the following Ultrastar DC HC530 specifications.
Interface:
Capacity: 14TB
Format: Sector size (bytes):
SATA: 4Kn: 4096 / 512e: 512
SAS: 4Kn: 4096, 4112,4160, 4224 / 512e: 512, 520, 528
Areal Density (Gbits/sq. in, max): 904
Data buffer (MB): 512
Rotational speed (RPM): 7200
Latency average (ms): 4.16
Interface transfer rate (MB/s, max):
Sustained transfer rate (MiB/s, typical) / (MB/s, typical): 255 / 267
Seek time (read, ms, typical): 7.5
Error rate (non-recoverable bits read): 1 in 1015
Load/Unload cycles (at 40oC): 600,000
Availability (hrs/day x days/wk): 24x7
MTBF (M hours): 2.5
Annualized Failure Rate (AFR): 0.35 percent
Limited warranty (yrs): 5
Idle/Operating (Bels, typical): 2.0/3.6
Power Requirement: +5 VDC, +12VDC
Power Operating(W): 7.6 10.2
Power: Idle (W):
Ambient temperature: 5° to 60°C
Shock (half-sine wave, 2ms, G): 70
Vibration (G RMS, 5 to 500Hz): 0.67 (XYZ)
I am sure you are wondering when you can buy the Ultrastar DC HC530. Well, you probably can't. While some of these drives may find their way to consumers somehow, Western Digital will not be selling it to home users. It is quite literally intended for data centers as the branding implies.
As of today, the company is merely shipping the Ultrastar DC HC530 to business customers that have the need for such a drive in large volumes. Even then, it isn't available for purchase -- right now, it is being shipped to those aforementioned businesses for evaluation purposes only. If you work in a data center and think you would benefit from this drive, you should have your company's purchaser reach out to WD for pricing and availability.