Microsoft says that to text from Windows 10 with Your Phone app, you'll need an Android handset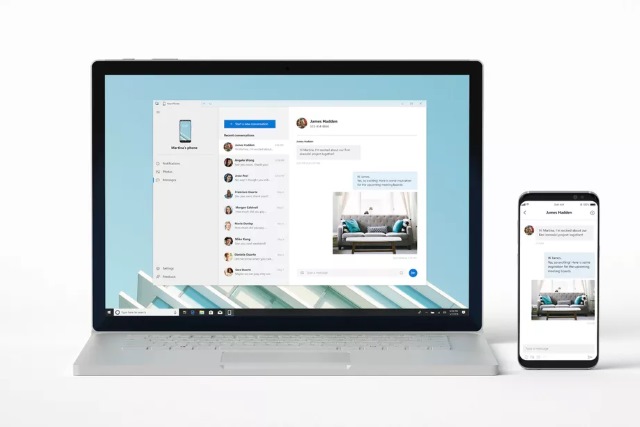 There's bad news for iPhone users who were previously excited about Microsoft's upcoming Your Phone app. Revealed at Build 2018 earlier this week, this new Windows 10 app will provide a way to connect your phone to your computer and then view notifications, send texts and copy files from within Windows 10.
But some of this functionality will be Android-only. Microsoft says that it needs to work with Apple to get some features up and running, including being able to respond to iPhone text messages via Windows 10. But how likely is this cooperation?
See also:
Your Phone will most certainly offer support for both iPhone and Android handsets, but Android users will get a far better deal. The sending and receiving of text messages from a PC is something many people would like to be able to do as it saves having to switch between devices and break up workflow. But the locked-down nature of iOS means that Microsoft can't just jump in and create a system that ties in neatly with it. By its own admission, it is going to need a lot of help from Apple.
Speaking with the Verge, Microsoft's Shilpa Ranganathan explained:
We will actually have photos on iOS and notifications as well. Apple does make it a tad harder for messages, but we're very willing to work with Apple. I want to do this in a supported way with a respect for the ecosystem we're building on and at the same time make it a delightful experience. Messages is one where we're not currently where we need to be compared to Android, but we need to work with Apple.
While it is understandable that Microsoft wants to offer the same functionality to both iOS and Android users, there's not necessarily much incentive for Apple to do so.
But the iOS limitations are not all we know about Your Phone. From an interview with Windows Central, we also know that there will be no need for a computer and a smartphone to be connected to the same Wi-Fi network. While being connected to the same network will certainly help, a Bluetooth option will also be available.
Microsoft has also revealed that for Android users, the last month of text messages will be automatically synchronized between phone and computer, while in the case of photos on Android and iOS, only the most recent 25 images will be synced.
Your Phone is due to launch to Windows Insiders soon, and is expected to roll out to everyone in October when the next major update to Windows 10 is due to launch.