AgileBits releases all-new 1Password 7 for Mac, Windows version to follow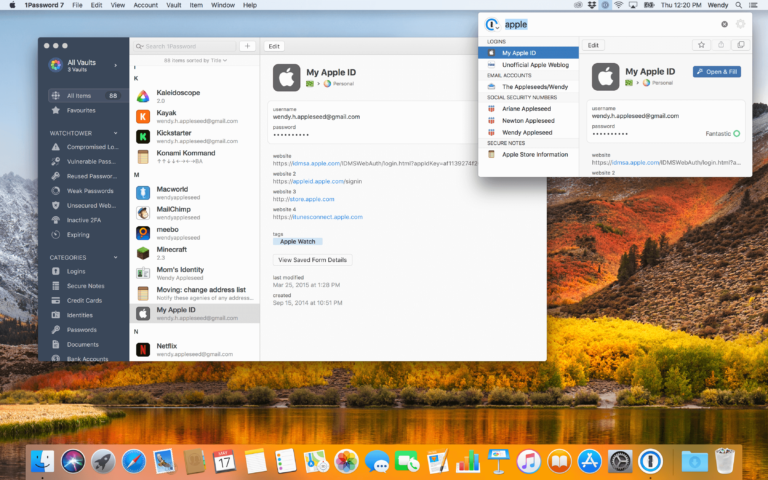 How do you store your passwords? You'll be surprised. Some people use the same memorable pass for most websites, but if this is compromised it offers the fraudster access to every site where you used the single login.
Other people simply write down their passwords. To be fair, if you can trust the people in your household, there's no problem with this, but how do you access your website logins on the road? Do you take your notepad with you, containing every single login and, no doubt, your bank password?
The wisest solution is to put your trust into a password manager and there are few better than 1Password. We use this across our various devices and have never had an issue. We possibly put too much faith in the tool as we store all our important data, including secure notes, passport details and much more. But having all this information within one secure vault makes it easy to retrieve the data, on demand, on any device.
1Password 7 for Mac is here and it's a huge update. The improved Watchtower will look out for exposed passwords on haveibeenpwned.com and warn if one of your logins has been compromised. It will also highlight vulnerable, reused and weak passwords, so you can make necessary changes. 1Password will also check against twofactorauth.org to inform you of the websites which will require two-factor authentication.
The UI has had a modern makeover, with a new sidebar, icons and a clearer custom font, Courier Prime Bits, which was designed so you can clearly see the difference between the characters in your passwords. 1Password Mini also has a new design with its own popup window which will auto-sense and provide the necessary password required to login to the website in your browser.
It's worth noting that 1Password 7 for Windows is coming (we were surprised they both weren't released at the same time as it's in Release Candidate stage) and it's another huge update, with a new UI to align it more closely with the Mac edition. Other highlights include support for a 1Password personal vault and Windows Hello, enabling users to unlock their vaults with their fingerprint or via facial recognition.
1Password 7 for Mac is available now as either a standalone product for $69.99 (but reduced to $49.99 during launch). Alternatively, you might find purchasing a personal subscription better value at $2.99/month, with a family option suitable for up to 5 members at $4.99/month. 1Password 7 for Windows is available as a beta.