Leaked video shows Apple News, Xcode 10 and dark mode in macOS 10.14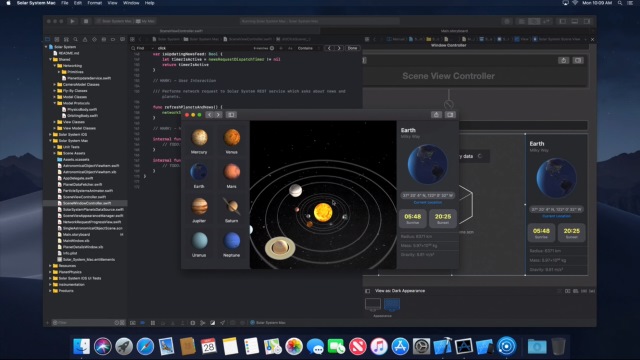 A developer discovered a video on Apple servers that not only shows Xcode 10 running on macOS 10.14, but also reveals a dark mode as well as an icon for the Mac News app nestling in the Dock. The leak comes just days ahead of this year's WWDC.
Steven Troughton-Smith found the video in an API for the Mac App Store backend, and leaked his findings to an eager audience. Coming direct from Apple's servers, this leak is something of a rarity as it gives a glimpse of what's coming up in macOS pretty much direct from the horse's mouth.
See also:
Troughton-Smith's discovery also shows the App Store has been upgraded to support video previews. In reality, however, it's probably Xcode 10 and dark mode that will excite the most people, although at the moment it's not entirely clear whether the dark mode will be available on a system-wide basis. These are probably some of the highlights Apple was hoping to debut in its WWDC keynote on Monday, but you can get a sneak preview in this 30-second video:
On Twitter, Troughton-Smith shared screenshots of his findings:
Ladies and gentlemen, I give you Xcode 10 on macOS 10.14. Dark Appearance, Apple News, App Store w/ video previews pic.twitter.com/rJlDy81W4W

— Steve Troughton-Smith (@stroughtonsmith) June 2, 2018
In another tweet he points out that the video should really have been hidden from view, but Apple appears to have slipped up slightly: "As usual, the spoilers came from within: Apple posted a 30-second preview video of Xcode on 10.14 to the Xcode MAS store page API (which, as videos aren't supported on the MAS, 'should' have been hidden. Guess nobody checked.)."