Microsoft unveils IoT-ready Windows Collaborative Displays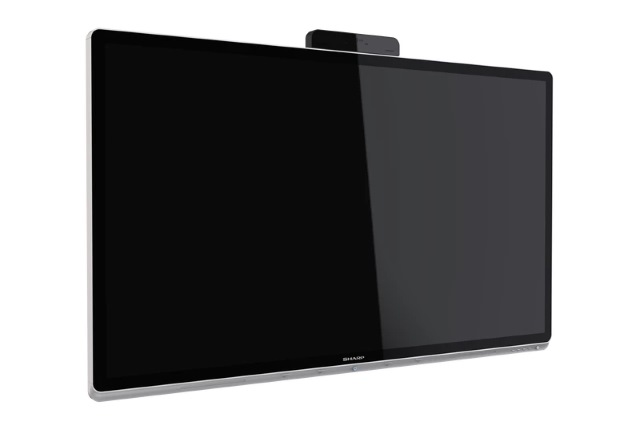 In a keynote address at Computex 2018, Microsoft introduced a completely new hardware platform: Windows Collaboration Displays. Designed for use in offices and meeting rooms, the displays are touch-sensitive and can connect to Microsoft Azure Internet of Things spatial recognition via built-in sensors.
While clearly related to the Surface Hub, Windows Collaborative Displays have a key difference: you have to supply your own computer hardware. Hook up a computer, and you have digital whiteboard and presentation tool at a fraction of the cost -- although pricing is yet to be confirmed.
See also:
Windows Collaborative Displays have been described as a "completely new product category", but this might be something of a stretch. It is, in reality, just a display, albeit one with some fancy extra capabilities. Microsoft is not producing the hardware itself; models from Sharp and Avocore will be available to buy later this year, but pricing has not yet been revealed.
As the displays are going to be built by different companies, there will be variations in hardware specifications. There will almost certainly be different sizes available to suit different budgets, and Microsoft showed off a Sharp model that measured 70 inches and featured a conference camera.
As well as being multi-touch and stylus-sensitive, a far-field microphone system can be found in the displays. But it's the potential offered by Microsoft Azure Internet of Things spatial recognition connectivity that is arguably most interesting. As Microsoft explains, sensors can be used to -- among other things -- determine the temperature of a room and adjust it automatically. The system can also tie into an office's room booking system. Microsoft says:
These new Azure IoT capabilities include relationship modeling via topologies and ontologies, advanced sensor processing, support for multi- or nested-tenants, and role-based access control. The features enable partners to focus on innovation at the application level instead of building from scratch.

This functionality combined with the ability to query data in the context of a space -- rather than from disparate sensors -- sets our partners up to build repeatable and scalable spatially aware solutions. Partners can create AI experiences that are uniquely relevant because of the ability to correlate data from across the digital and physical world, thereby unlocking new opportunities to improve consumer experiences, create new efficiencies, and improve the spaces in which we reside.
You can expect to hear a lot more about Windows Collaborative Displays in the coming months.