Microsoft Office gets a facelift to improve usability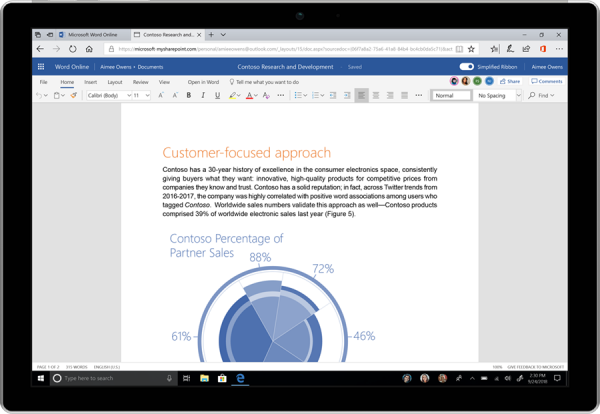 Microsoft has announced that it's giving its flagship Office suite a makeover designed to deliver a balance of 'power and simplicity'.
The updates apply to Office.com and Office 365 and will be rolled out over the next few months, the company says it will 'test and learn' as it goes -- those of a cynical mind might see that as code for letting users find the bugs.
The changes are based on a 'Three Cs' -- customers, context and control -- principle, designed to focus on the features people use most and making it easier to access them.
"Office is used by more than a billion people every month, so while we're excited about these changes, we also recognize how important it is to get things right," says Jared Spataro, corporate vice president for Office and Windows marketing, writing on the Office 365 blog. "To guide our work, we came up with 'The Three Cs' -- a set of guiding principles that we use as a north star. Because these principles will make this process feel different than any previous user experience update, we thought it would be useful to share them with you."
Initial changes will include a simplified ribbon interface. This is designed to help people focus on their work and collaborate naturally with others. The updated ribbon offers a cleaner, simpler design, it's also more customizable, allowing people to choose their most-used features. It will still be expandable to the traditional three-line view if preferred.
Across all of the Office apps users will start to see new icons and colors built as scalable graphics -- so they render with crisp, clean lines on screens of any size. "These changes are designed to both modernize the user experience and make it more inclusive and accessible," says the company.
The search function is changing too. "People will notice search is now a much more important element of the user experience, providing access to commands, content and people. With 'zero query search,' simply placing your cursor in the search box will bring up recommendations powered by AI and the Microsoft Graph."
More detail about the changes is available on the Office 365 blog.