Facebook bug secretly unblocked people you thought you'd blocked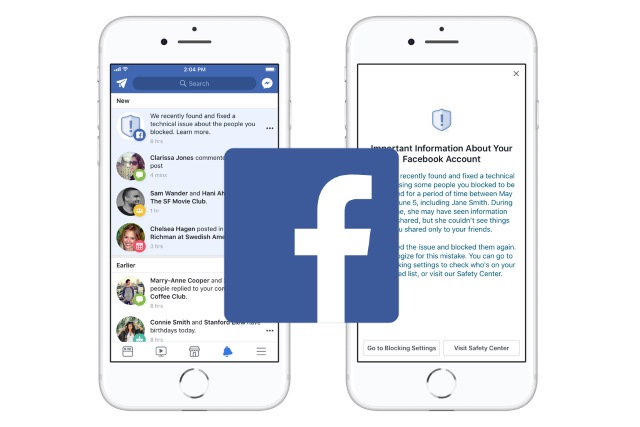 Facebook is primarily about connecting with other people, but its "block" functionality certainly has its place for avoiding those you don't want to be in touch with for one reason or another. It's a great option to have... until it goes wrong.
And that's precisely what happened. The social network has admitted that more than 800,000 were hit by a bug that meant people they had blocked on either Facebook or Facebook Messenger were temporarily unblocked and able to see content that had been posted.
See also:
In its defense, Facebook says that the vast majority of people affected by the bug -- some 83 percent -- "had only one person they had blocked temporarily unblocked". This will come as little comfort those anyone who found (or, indeed, is just now learning) that people they purposely blocked was able to see their posts. By Facebook's own admission: "There are many reasons why people block another person on Facebook. For example, their relationship may have changed or they may want to take a break from someone posting content they find annoying. Other reasons are more serious like harassment or bullying."
In all, the temporary unblocking last for a week as Facebook explains in a post about the incident:
Starting today we are notifying over 800,000 users about a bug in Facebook and Messenger that unblocked some people they had blocked. The bug was active between May 29 and June 5 -- and while someone who was unblocked could not see content shared with friends, they could have seen things posted to a wider audience. For example pictures shared with friends of friends. We know that the ability to block someone is important -- and we'd like to apologize and explain what happened.

When you block someone on Facebook they cannot see things you post on your profile, start conversations with you on Messenger or add you as a friend. Blocking also automatically unfriends them if you were previously friends. In the case of this bug:

It did not reinstate any friend connections that had been severed;
83 percent of people affected by the bug had only one person they had blocked temporarily unblocked; and
Someone who was unblocked might have been able to contact people on Messenger who had blocked them.
Facebook says that the problem has now be fixed, but you might want to keep an eye open for a notification from the social network so you know if your account was affected.