Apple's big 2018 MacBook Pro keyboard cover-up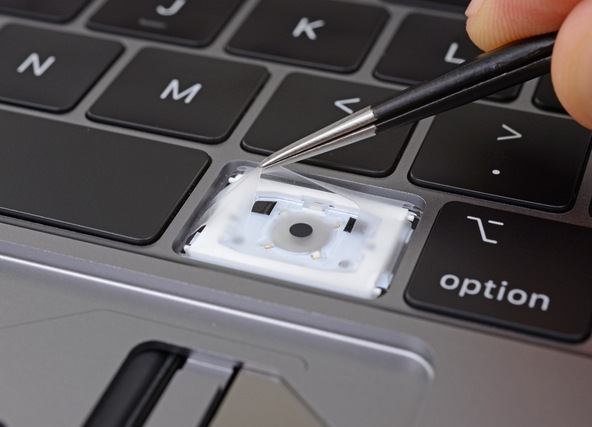 Just a few days ago Apple launched the latest additions to its MacBook Pro range, and the company talked about the fact that the keyboard is quieter. A teardown of the latest devices reveals not only why the keyboards are quieter, but also that the method used seems to serve a secondary purpose -- or maybe that the quietening is itself a secondary purpose.
The keyboards of previous MacBook Pros have suffered issues that led to a free repair program being set up. The latest laptop teardown by iFixit shows that Apple has added a silicone membrane beneath each key, apparently serving the dual task of quietening typing and offering protection and dust and other unwanted contaminants.
See also:
While Apple has not shouted about the dust-resistance of the updated keyboard, the silicone membrane uncovered by iFixit looks remarkably similar to a patent of Apple's for a method to "prevent and/or alleviate contaminant ingress". While a more reliable keyboard is undeniably a great selling point, it makes sense that Apple is not shouting about it at the moment.
As iFixit points out:
Apple is in the middle of several class-action lawsuits for the failure of their keyboards, so of course they can't just come out and say, "Hey, we fixed it!" That says there was a problem to begin with.
There is debate about whether Apple is being completely open about the new design of the keyboard. While the company is touting the quietened typing, some believe that this is merely a happy side-effect of the crap-protection membrane. As Sam Lionheart from iFixit puts it: "I'm just here to posit: the advertised boost in quietude is a side-effect of this rubbery membrane. The quiet angle is, quite literally, a cover up".
Check out iFixit's video to see the innards of the new MacBook Pro keyboard:
Image credit: iFixit