YouTube launches Copyright Match tool to fight content stealing and duplication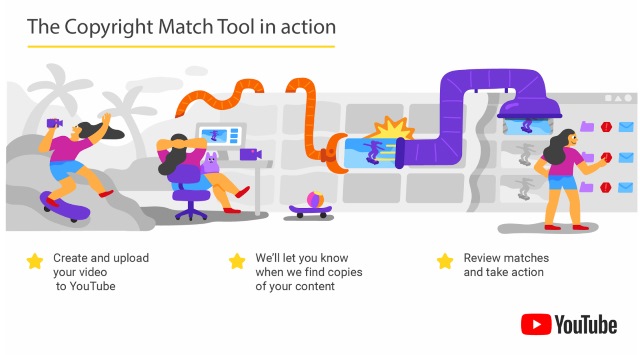 Eager to encourage content creators to do what they do best -- create content -- YouTube has release a new tool that it hope will help cut down on the problem of video theft and duplication.
Called Copyright Match, the new system is different to the existing Content ID system, but it does use a similar matching technology. YouTube says that it has been testing the tool for almost a year and is now ready to open it up to a larger portion of its community
See also:
YouTube has faced criticism for failing to do enough to prevent copyright infringement on the platform, and this latest tool is an attempt to do something about that. However, it is likely to be found wanting. YouTube explains that Copyright Match is only "intended to find full re-uploads"; it offers no protection against clips being stolen by other users.
In a blog post YouTube says:
Today we are excited to announce the new Copyright Match tool, which is designed to find re-uploads of your content on other channels. Here's how it works: after you upload a video, YouTube will scan other videos uploaded to YouTube to see if any of them are the same or very similar. When there is a match, it will appear in the "matches" tab in the tool and you can decide what to do next.
So what might you decide to do next? YouTube has a few options: "you can choose either to do nothing, to get in touch with the other creator, or request that YouTube remove the video. When you request removal you can do so with or without a 7-day delay to allow the uploader to correct the issue themselves. Takedown requests will be reviewed to make sure they comply with YouTube's copyright policies".
To start with, the tool will be made available to creators with a large number of subscribers (over 100,000), but ultimately it should be rolled out to everyone.