Infowars' Alex Jones is banned from Facebook for a month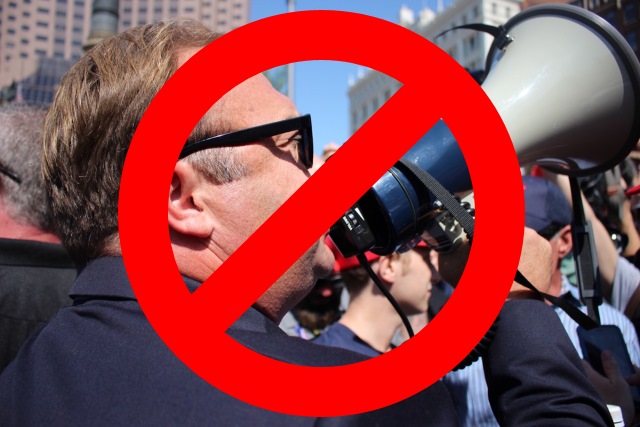 Following on from a strike for violating YouTube policies, Infowars founder Alex Jones has been hit with sanctions by Facebook for contravening its community standards.
The social network -- which just dropped in value -- removed four of Jones' videos for violating its policies and banned the right-wing conspiracy theorist from using his account for 30 days. In the event of further policy breaches by Jones or his admins, his page could be permanently banned.
See also:
The ban affects Jones' personal Facebook account; other Infowars page administrators are free to continue to post, and the Alex Jones Channel page remains active. Just like YouTube, Facebook operates a "strikes" policy and, as reported by CNET, a spokesperson for the company said that "the entire channel is close to the threshold that would justify his page being permanently removed".
Facebook also issued a statement about the matter, saying:
In this case, we received reports related to four different videos on the Pages that Infowars and Alex Jones maintain on Facebook. We reviewed the content against our Community Standards and determined that it violates. All four videos have been removed from Facebook."
Facebook has not publicly revealed how the videos violated its community standards, and it is not clear whether they are the same videos that were removed by YouTube.
Adding confusion to the matter, TechCrunch writer Josh Constine reports on Twitter that Facebook had given his site a different story:
No, Facebook tells TechCrunch that Alex Jones will get a 30 day ban upon his next violation. He has not been banned yet https://t.co/J379TvImBm

— Josh Constine (@JoshConstine) July 27, 2018
While Infowars has not directly responded to Jones' Facebook ban, the site is currently running numerous stories about the death of Facebook and "big tech's murder of free speech".
We have contacted Facebook for clarification and will amend the story as more details come in.
Image credit: Belltreephotography / Shutterstock