Unpacked: Watch the Samsung Galaxy Note9 launch live stream here!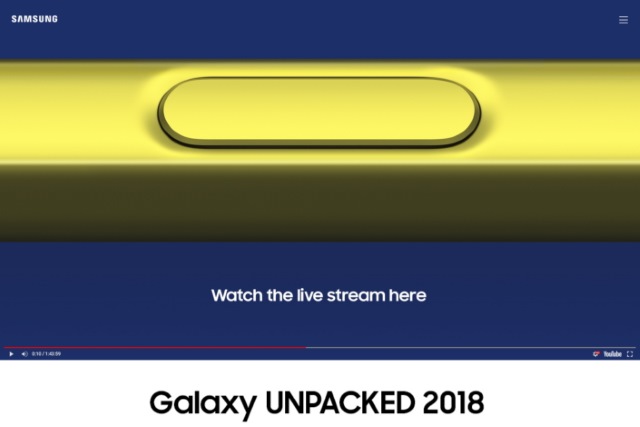 Just about everything you could possibly want to know about the Galaxy Note9 has already leaked out, but there's still the official launch event to look forward to later today in New York. The chances are you're not going to make it to the event itself, but you can watch it here, live.
Things kick off in the Barclays Center in Brooklyn at 11:00 EDT (that's 16:00 BST), and watching the Samsung Galaxy Unpacked 2018 live stream is the best way to get the lowdown on this flagship handset as soon as possible.
See also:
We already know that the Note9 will sport a 6.4-inch, 2960×1440 AMOLED screen, up to 512GB of storage (expandable to a massive 1TB) and a 4,000mAh battery. The fingerprint reader has moved so it is now positioned beneath the rear camera, there are 6GB and 8GB models to choose from, and the smartphone will be powered by either an Exynos 9810 CPU or a Qualcomm's Snapdragon 845 depending on where you are in the world.
It's not clear whether there will be any surprises, but you can find out for sure by tuning in to the event.
Twitter users can watch the stream live here.
If you prefer, there is also the option of tuning in on the Samsung Mobile pages on Facebook, or the  Samsung Newsroom on Facebook. Or simply watching below.
Other options are available -- Samsung is spoiling us for choice! You can also head to Samsung Newsroom, Samsung.com or Samsung Mobile Press when the event begins.
It's worth pointing out that Samsung says Internet Explorer 11 and older do not support live stream playback, and that if you're watching on a mobile device you'll need to have the latest version of either Chrome or YouTube installed.