NETGEAR announces XR700 Nighthawk Pro Gaming 802.11ad AD7200 10G Wi-Fi Router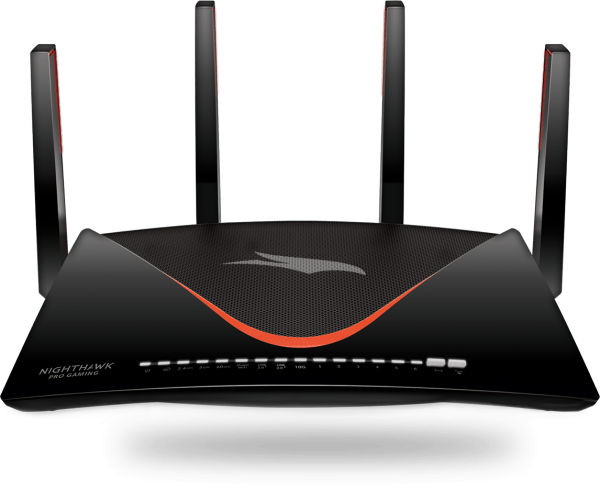 Nowadays, to get a quality wireless router, you do not need to spend a lot of money. There are several models from brands such as TP-Link which offer great specs and features for under $100. If money isn't an issue, however, there are certainly superior routers on the market for much higher prices. NETGEAR, for instance, sells some drool-worthy models under its Nighthawk branding that can be expensive.
Speaking of NETGEAR, that company has a new gaming-focused router which is sure to excite some consumers. The "XR700 Nighthawk Pro," as it is called, is tuned for gaming and features some top specs such as 802.11ad and a 10G Ethernet port. Overkill for most consumers? Totally, but gamers utilizing a wireless connection may be willing to pay the higher price for a potential edge.
"The NPG XR700 combines advanced gaming software with best-in-class, high-performance hardware that avid gamers expect of the Nighthawk Pro Gaming brand, such as a powerful 1.7GHz quad-core processor, quad-stream WiFi with MU-MIMO, the fastest 60GHz 802.11ad WiFi technology, and four external high-power active antennas. With a single 10G SFP+ port and additional 7 Gigabit ports, the XR700 is ideally designed for streamers, videophiles with networked storage, and those who depend on hard-wired gaming hardware," says NETGEAR.
ALSO READ: Google brings Wi-Fi to 400 Indian train stations
The popular networking company further says, "Using a compatible SFP+ module such as NETGEAR AXM765, gamers can run 10G connection from the NPG XR700 to a 10GBASE-T capable PC and experience one tenth the latency in downstream of a 1G connection, eliminating any bottleneck to reach breakneck speed. Couple the Nighthawk Pro Gaming SX10 10G LAN Switch with its (2) 10G multi-gig ports with the XR700, to extend the number of available ports and provide the perfect setup for the ultimate in LAN gaming and swift transfers of large data like 4k video. The XR700 is designed to enhance online gameplay, providing players with an optimized network environment to deliver top performance and dominate over the competition."
NETGEAR shares the following specifications.
AD7200 Quad Stream Wave2 WiFi -- Enjoy Multi-User MIMO (MU-MIMO) for simultaneous streaming at the fastest speeds up to AD7200, and stream 4K UHD videos in pristine quality up to Gigabit WiFi speeds for mobile devices with 160MHz
10 Gigabit LAN SFP+ Port --Faster access to Network Attached Storage (NAS) for lightning-fast backup and streaming or connect to the Nighthawk Pro Gaming SX10 Multi-Gig Ethernet Switch for lower-latency LAN game parties
7 Gigabit Ethernet Ports (6 LAN + 1 WAN) -- Aggregate two ports when connecting to a compatible switch to get even more wired ports for gaming LAN parties
Powerful 1.7GHz Quad Core Processor -- Support more devices with the fastest processor for a home router for better 4K UHD streaming, VR gaming, and more
60GHz 802.11ad WiFi -- Benefit from the fastest WiFi technology for instant downloads and backup
Built-in Plex Media Server -- Enjoy your movie, TV show, music, video, and photo collections anywhere you go, on the devices you love
Additional DFS Channels -- Enjoy 15 more channels in 5GHz for an interference-free gaming experience
High-Performance Active Antennas -- Get better WiFi coverage and faster speeds throughout your home with four (4) external antennas
Two USB 3.0 Ports and ReadyCLOUD USB Access -- Get faster streaming and backup to stored media, and secure cloud access to USB storage
VPN Server -- Enjoy secure access to your home network and Internet using any device.
Security Updates -- Get the latest firmware updates to your router automatically
Automatic Cloud and USB Drive Backup: Back up to the cloud or use free ReadySHARE Vault software to back up your PC to a connected USB hard drive
So, just how expensive is the NETGEAR XR700 Nighthawk Pro? It will go on sale September 2018 for a sky-high $499. Is that a lot of money? Absolutely. With that said, if you need both 802.11ad and a 10G Ethernet port, there aren't many such models on the market.
Of course there's a reason 802.11ad isn't very popular -- it is very short range, usually requiring the user to be in the same room with the router. As a result, there are very few 802.11ad client devices available, so its usefulness is quite limited. Thankfully, the XR700 has 802.11ac too.