Firefox Quantum 62 tweaks home page, allows deletion of personal data when disconnecting Sync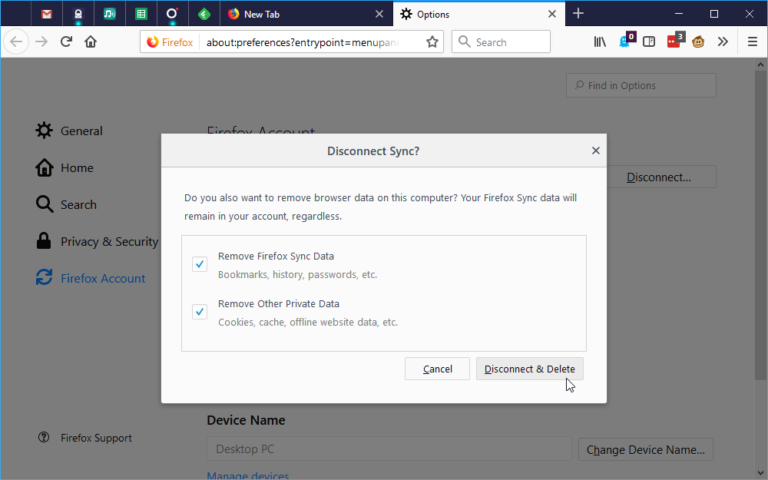 Mozilla has released Firefox Quantum 62.0 for desktop, along with Firefox for Android 62.0. Version 62 ships with several minor new features, the most visible of which is support for up to four rows of personal customizations -- top sites, Pocket stories and highlights -- on the new Firefox Home menu.
Android users gain the most notable changes in Firefox 62: scrolling performance is improved, and there's the promise of faster loading times over Wi-Fi by loading from the network cache if it's quicker than the disk cache. Users also gain more control over notifications with the addition of a 'Product and feature tips' option.
Desktop users who've installed the Firefox Multi-Account Containers extension, which allows them to browse the web using multiple, color-coded identities, gain a 'Reopen in Container' tab menu option, which makes it possible to reopen tabs in different containers.
Users who've taken advantage of the description field when setting bookmarks will need to be aware that it's been removed -- existing descriptions remain for now, but it's advised you export existing descriptions as a HTML or JSON files before they're removed in a future release.
When users disconnect from Firefox Sync, they will now be offered the opportunity to wipe their Firefox profile data from that computer.
A preference for manually distrusting all Symantec-issued certificates can be triggered ahead of trust automatically being removed as of Firefox 63 has been added -- users must head to about:config and set 'security.pki.distrust_ca_policy' to 2.
Parallel-Off-Main-Thread-Painting has been implemented in Windows, which gives those users without accelerated hardware the benefit of improved graphics rendering.
MacOS users will find the dark theme is now enabled by default when the upcoming macOS 10.14 dark mode is implemented. Adobe Flash is now restricted to running in a more secure process sandbox too on the Mac.
Support for CSS shapes has also been implemented -- developers can take full advantage via a new Shape Path Editor in the CSS Inspector. Also added is support for CSS Variable Fonts. Developers also gain a new three-panel Inspector, which separates rules into their own panel.
WebRTC screen sharing is now handled differently, ensuring any shared windows are now brought to the front. Android users will also appreciate that WebRTC between Firefox and Safari now works again.
A dedicated Canadian English locale (en-CA) has been added alongside an enterprise-level update that sandboxes AutoConfig to the documented API by default. FreeBSD support for WebAuthn has also been added.
Firefox Quantum 62.0 and Firefox for Android 62.0 are both available now as a free, open-source download for supported versions of Windows, Mac, Linux and Android.