People love Microsoft's Your Phone so much, it's the top trending Android app in the Google Play Store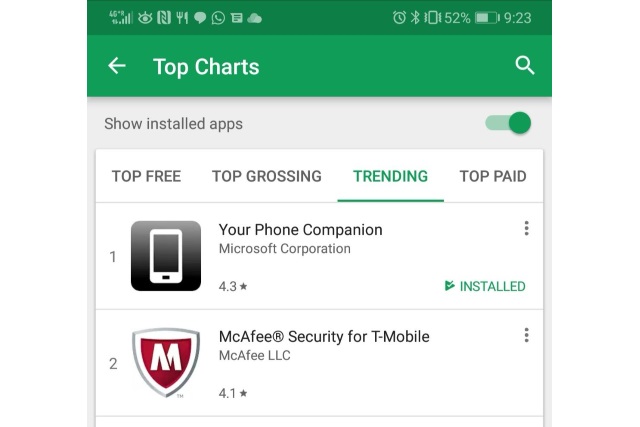 Having abandoned its own mobile operating system, Microsoft is increasingly embracing Android and iOS and improving interoperability with Windows. A recent example of this is the Your Phone Companion app which makes it possible to send texts from your computer and easily access photos stored on your Android phone.
The ability to access and use a phone via Windows 10 has gone down very well -- as the interest in our story about the app showed. So well, in fact, that the Your Phone app is the number one trending app in the Google Play Store.
See also:
Considering Your Phone has only been available for a couple of days, the fact that it is already the top trending app is quite astonishing. It seems that the ability to access messages and texts within Windows is hugely attractive to Android users.
The news of Your Phone's success was shared by Vishnu Nath, head of program management at Microsoft Mobility, who took to Twitter:
The #YourPhone companion app is now the #1 trending app in the Google Play app store! So exciting to see the enthusiasm for cross device experiences. Thank you to our fans! pic.twitter.com/t7ydEREdQX

— Vishnu Nath ??? (@VishnuNath) October 4, 2018
The popularity of Your Phone is only going to increase, as Microsoft has great plans in store for the app -- both on Android and iOS -- so there are exciting new features on the horizon.
If you want to see what all the fuss is about, head over to our Your Phone story and see what the app can do for you!