HyperX ships more than 60 million RAM sticks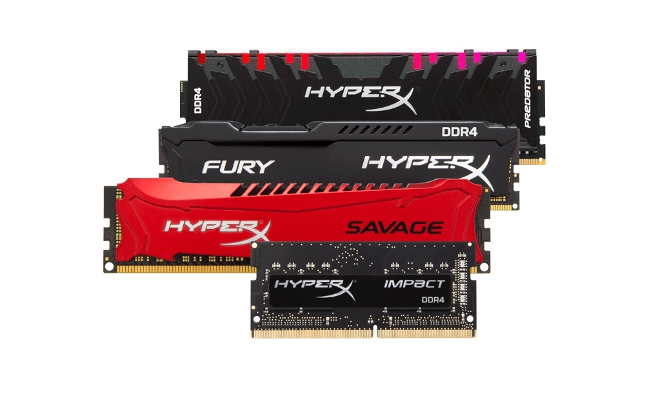 HyperX -- Kingston's gaming brand -- is most well known for high quality RAM. With that said, it has expanded over the years to include gaming peripherals, such as mice, keyboards, headsets, and more. Still, despite a more diverse product offering, memory remains the crown jewel of its business.
To highlight just how important RAM is to HyperX, today, the company makes a shocking announcement. You see, the company has achieved an impressive milestone -- more than 60 million memory modules shipped since 2002!
ALSO READ: HyperX launches internal FURY RGB SSD and external SAVAGE EXO SSD
"Since HyperX launched 16 years ago, it has increasingly expanded its product line and market reach. The HyperX brand is not only recognized for delivering high quality memory products, but also as a peripherals leader, providing gaming headsets, keyboards, mice, and mousepads to gamers across the globe. The HyperX Engineering Labs and engineering team is committed to developing technology to bring new performance memory products to the PC, mini-PC and notebook markets. HyperX provides a variety of memory solutions, including Predator DIMMs for high performance PC builds, FURY DIMMs for gamers building affordable PCs, and Impact SODIMMs for notebook updates and system builds," says HyperX.
ALSO READ: HyperX 'Cloud MIX' Bluetooth stereo gaming headset is both wired and wireless
Mark Leathem, general manager, HyperX gaming division, "HyperX is pleased to be part of a thriving community of enthusiasts and builders by supporting them with the highest quality memory products. We continue to grow and support both PC and console gaming markets, and with our new Cloud Mix gaming and lifestyle headset, we are looking to expand into wider markets around the world."
ALSO READ: HyperX releases Alloy FPS RGB mechanical gaming keyboard with Kailh Silver switches
The company shares the following memory milestones that happened since 2002.
Gaming memory capacity grew 62 times -- from 256M to 16G
Memory module speeds increased 12 times -- from 333MHz to 4.133GHz
Price per 1Gb decreased in cost 38 times, from $37.66 to $0.98 (ASP -- Average Selling Price)
Memory architecture advanced four times -- from DDR1 through DDR4
ALSO READ: HyperX launches affordable Pulsefire FPS Pro RGB gaming mouse
As someone that tinkers with PC building, I can attest to the excellence of HyperX RAM -- it is fast and reliable. There's a reason the brand is still standing 16 years after launching. I look forward to the company achieving future memory shipment milestones -- 100 million, 150 million, etc.
Are you surprised that HyperX has shipped more than 60 million sticks of RAM? Sound off in the comments.