Apricorn Aegis Secure Key 3NX: An ultra-secure 256-bit AES XTS hardware-encrypted USB flash drive [Review]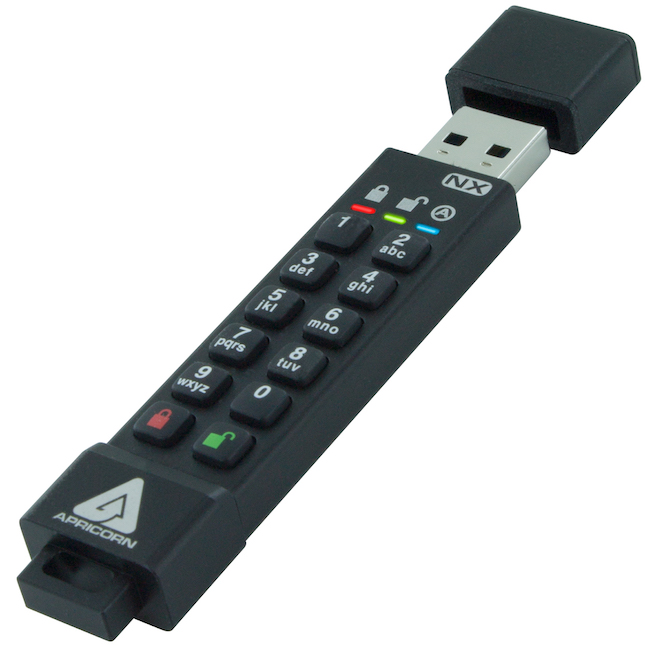 Storing files in the cloud means they are easily accessible from anywhere, but if you have private data that you can't afford to fall into the wrong hands, this might not be the best option for you, especially given the number of data breaches we see on a regular basis.
An alternative option is to carry those files with you on a USB flash drive, protecting them with encryption. While software encryption methods are better than nothing, a hardware encrypted solution, like the Aegis Secure Key 3NX, is a much more advisable choice.
The new USB 3.1 thumbdrive from Apricorn has a built in alphanumeric keypad. In order to use it, you just need to wake up the drive by pressing the unlock button, enter an Admin or User PIN, and then press unlock again. Provided the PIN has been recognized, the green LED will flash for the next 30 seconds, giving you time to connect the drive to a USB port. Once plugged in, it will function like a regular USB drive. It's powered by an internal battery and charges whenever connected to a USB port.
Unlike other similar such products, the 3NX doesn't come with a default PIN, so the first thing you'll need to do is set one up.
To create an Admin PIN, press the unlock key, and the green and blue LEDs should glow, indicating no PIN exists. Press the unlock key and the number 9 key, and when the green LED begins blinking, enter your choice of PIN, press unlock, and then enter it a second time and press unlock once more. Admin PINs need to be between 7 and 16 digits in length, and can't contain all consecutive numbers (so no 1234567) or be all the same numbers (no 1111111). Once done, you can add user PINs.
The drive offers the same feature set as its predecessor, the Aegis Secure Key 3z, and is FIPS-140-2 Level 3 certified for security (it uses 256-bit AES XTS encryption) and IP-67 certified water and dust resistant. It offers complete cross-platform compatibility, a read-only option, separate admin and user access, data recovery PINs, programmable PIN lengths, and Aegis Configurator compatibility (a Windows-based app that can set up multiple devices simultaneously). Wear resistant rubberized buttons means that your PIN digits won't be revealed as a result of constant use.
The drive also comes with brute force protection in order to stop anyone bashing in multiple PIN guesses. After a number of unsuccessful attempts (this can be anything between 4 and 20), the drive will delete its encryption key and be unable to decrypt your stored data. You can also create a self-destructing PIN that will wipe everything when entered, a handy last line of defense.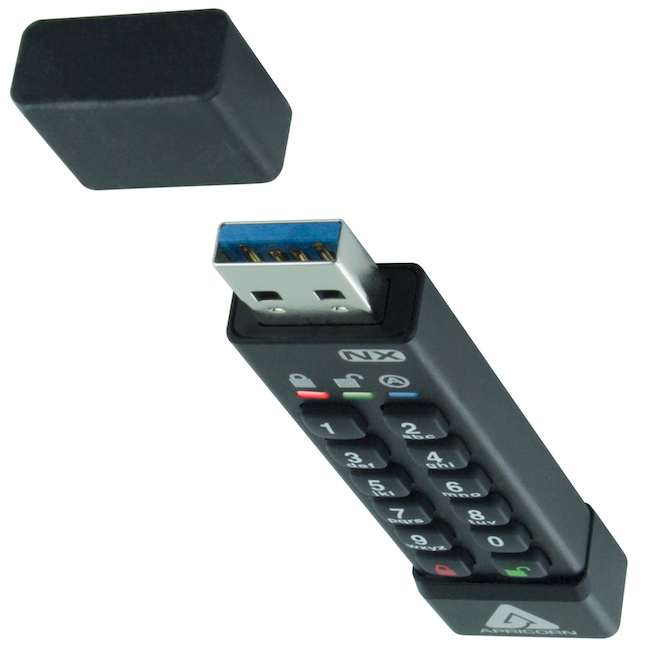 As I observed in my review at the start of the year, the Aegis Secure Key 3z did tend to get very hot when in use. This is something that has been addressed with the 3NX, and the drive is noticeably cooler. It can also be configured as Removable Media or Fixed Disk.
I've been using the 3NX for a while now, and it's great. The hardware keypad does mean the drive is a lot longer than most (it measures 81mm x 18.4mm x 9.5mm), but that shouldn't be too much of an issue. It's not the fastest drive you can buy -- it offers up to 77MB/s read and 72MB/s write rates -- but the priority here is security rather than speed, and you won't have any complaints in this department.
The Aegis Secure Key 3NX is available to buy directly from Apricorn or your local channel partner. Another change from its predecessor is it's offered in a broader choice of capacities from just 2GB up to 128GB. Pricing starts from $59/£45.