Satechi unveils Aluminum USB Type-C Mobile Pro Hub Adapter for 2018 iPad Pro and more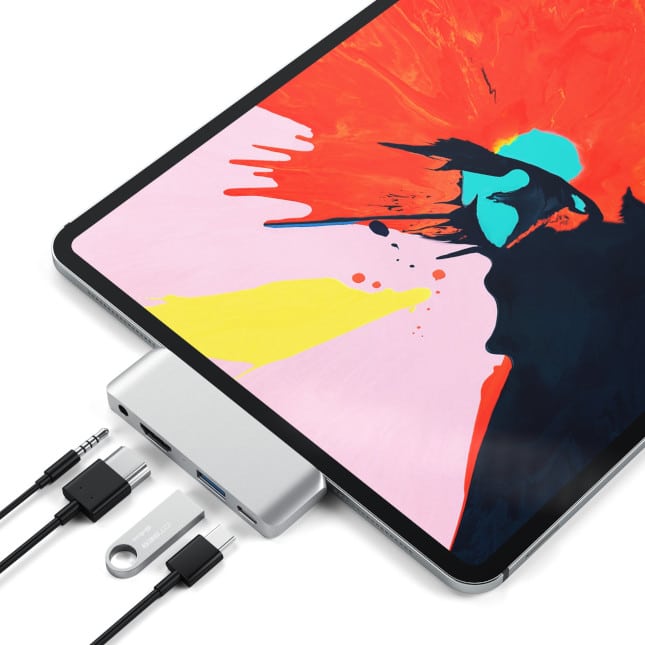 The newest iPad Pro tablets are amazing, albeit overkill for many consumers. Not only are they beautifully designed, but powerful as hell. Believe it or not, they can outperform many Mac computers. In other words, iPad is getting closer to becoming a legit laptop alternative.
Unfortunately, the 2018 iPad Pro still does not have mouse support, meaning navigating iOS while in "laptop mode" with the keyboard attachment can be tedious. While it finally has a USB-C port, there is still no USB Type-A port (and there never will be). Also missing is the 3.5mm audio jack. Luckily, as is typical with Apple products these days, adapters and dongles are here to save the day. Today, Satechi announces the Aluminum Type-C Mobile Pro Hub Adapter which makes the 2018 iPad Pro much more capable.
"Unlock your new 2018 iPad Pro's full potential with our Satechi Type-C Mobile Pro Hub. Designed specifically for 2018 iPad Pro to conveniently access peripheral devices, wherever life may take you. Featuring stunning 4K HDMI display (30Hz), USB-C PD 3.0 charging, USB 3.0 (up to 5 Gb/s) and 3.5mm headphone jack, all over a single USB-C connection. With its plug and play design, it is easier than ever to connect all your devices on-the-go," says Satechi.
ALSO READ: Apple reveals new iPad Pro with USB-C
The company shares more details about the features below.
4K HDMI: allows for seamless presentations, conference calls and video streaming on-the-go.
USB-C PD 3.0 CHARGING: keeps the iPad Pro and other Type-C compatible products powered, while running high-performance applications. It can also be used as a power bank to charge other USB-C devices while away from an outlet.
3.5MM HEADPHONE JACK AND EXTRA USB 3.0 PORT: restores the ability to connect to a user's favorite pair of 3.5mm wired headphones and provides an extra USB 3.0 port for fast data transfer (up to 5Gbs) or to connect a USB keyboard to the iPad Pro or other compatible Type-C tablet.
The USB Type-A port should work for things beyond a keyboard, such as USB microphones for podcasting and such. You can even connect storage devices to import photos -- a USB SD card reader should work perfectly. Of course beyond importing media, iOS doesn't have much use for USB storage. Apple is all about the cloud.
ALSO READ: Adobe is working on Photoshop for iPad
With that said, this dongle isn't just for iPad Pro. It should, in theory, work with any USB-C computer or device. In fact, Satechi lists compatibility with Android and Windows 10 too -- including Lumia Windows smartphones! You can see verified devices below, but keep in mind, devices not on this list may work too -- as long as it supports DisplayPort over USB-C and USB-C power delivery.
2018 iPad Pro
Samsung Galaxy S9 Plus/S9, 8 Plus/8, Note 9/8
Microsoft Surface Go, Surface Book 2
Google Pixel 3 XL/3, LG V30
Huawei Mate 20
HTC U12+
Microsoft Lumia 950 XL/950
So, how much does the Satechi Aluminum Type-C Mobile Pro Hub Adapter cost? Well, the MSRP is $59.99, but for a limited time, when you pre-order here, you can lock in the discounted price of just $44.99. It can be had in both silver and space gray, and should ship in December.