VisionTek Thunderbolt 3 eGFX External GPU Enclosure [Review]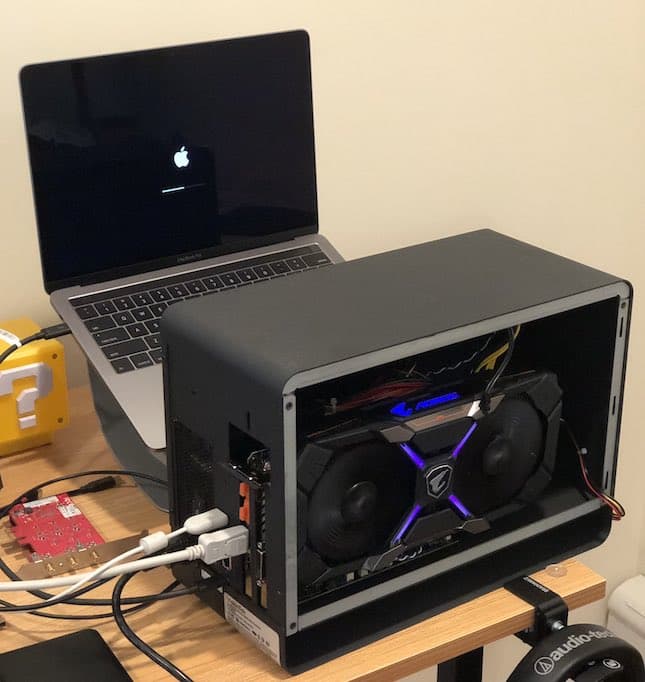 When you buy a thin and light laptop, you pretty much have to wave goodbye to hardcore gaming. Sure, gaming notebooks can be more svelte these days, but they still aren't as portable as say, a MacBook Pro or Windows 10 Ultrabook.
Thanks to Thunderbolt 3, however, you can easily add an eGPU to a thin and light laptop. What is an eGPU? It is essentially a desktop graphics card inside an enclosure. Some companies sell all-in-one units, with the GPU pre-installed, but if you already have a desktop graphics card, you can also just buy the enclosure for a "bring your own card" experience.
In my case, I have a Windows desktop with an AMD Radeon RX 580 8GB. I also have a 2016 MacBook Pro. I wanted to connect the 580 to my Mac, so I have been testing the VisionTek Thunderbolt 3 eGFX External GPU Enclosure. In theory, this combo of card and enclosure should allow my MacBook Pro to serve as a gaming machine, but also, it should improve performance of apps, such as Final Cut Pro X.
Apple shares the following benefits of using an eGPU with its video editing software.
Improved playback of projects with color correction and video effects.
Improved performance when working with 3D titles.
Faster analysis for effects including stabilization and optical flow retiming.
Faster rendering of complex project timelines.
Faster export of complex project timelines.
What's particularly cool about the VisionTek Thunderbolt 3 eGFX External GPU Enclosure, is that it is sort of a docking station too. You see, the enclosure will charge your laptop while connected, but also, it provides some helpful expandability.
On the front are two USB 3.0 Type-A ports, and there are three more on the back. Also on the rear? Gigabit Ethernet. Yup, it will add the ability to use hardwired internet rather than Wi-Fi -- a much appreciated addition. Believe it or not, there is even a SATA connector and power connector inside -- you can mount and connect a 2.5-inch SSD or HDD.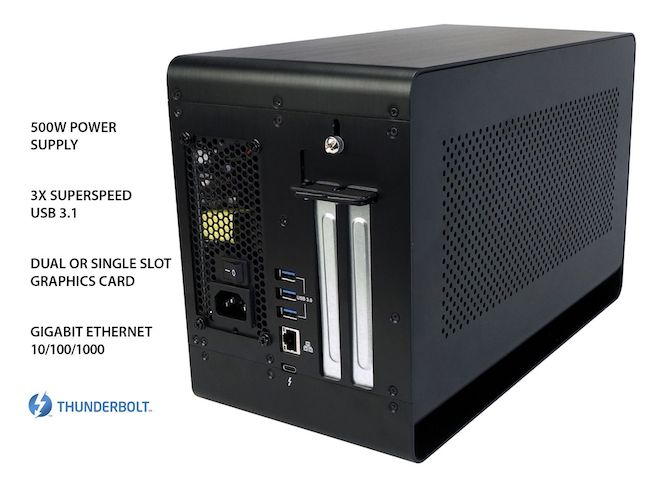 Upon taking the VisionTek Thunderbolt 3 eGFX External GPU Enclosure out of the box, I was immediately startled by its size. It is very big, but it has to be to accommodate a big desktop GPU. Being big aside, I was impressed with the build quality. The all-metal chassis both looks and feels great. You can immediately tell it is a quality product.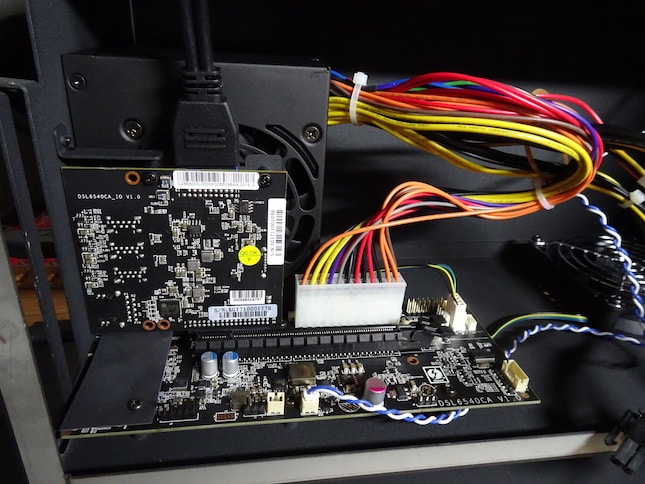 With the enclosure out of the box, it was time to put my RX 580 inside of it. In case you are wondering why I'm using this particular card, well, I am an AMD fan, and as a coincidence, so is Apple -- this just happens to be one of the AMD cards that is compatible with macOS (RX 570, RX580, Vega 56, and Vega 64). Can this enclosure work with Nvidia cards? Sure, but not with a Mac -- it will be a Windows-only affair.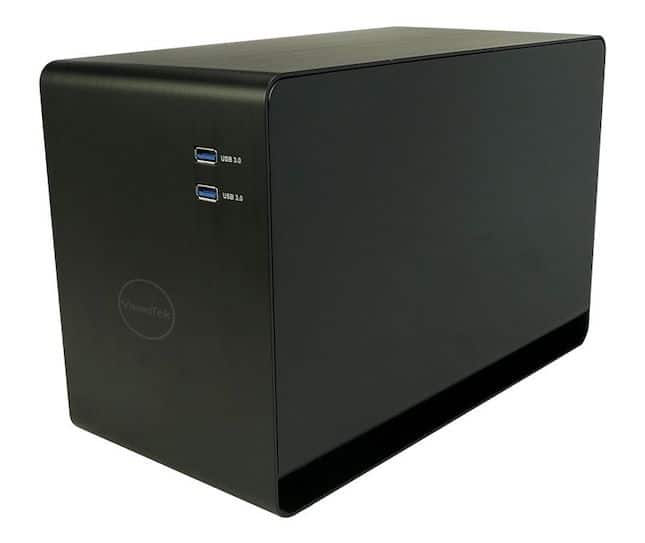 VisionTek shares the following list of known compatible cards. Please note: this list isn't exhaustive, and other cards should work on Windows too.
AMD Radeon RX500 Series
AMD Radeon RX 400 Series
AMD Radeon R9 Fury
AMD Radeon R9 Nano
AMD Radeon R9 300 Series
AMD Radeon PRO WX 9100
AMD Radeon PRO WX 7100
AMD Radeon PRO WX 5100
AMD Radeon PRO WX 4100
NVIDIA GeForce GTX Titan X
NVIDIA GeForce GTX 10 series
NVIDIA GeForce GTX 900 series
NVIDIA GeForce GTX 700 series
With the card installed in the enclosure, it was time to plug it into my MacBook Pro. As I expected, it worked flawlessly -- macOS detected it, and this was evident by a tiny logo on the top of the screen. Clicking this icon allows you to safely disconnect the enclosure -- you don't want to just unplug it without first doing so.
But now they real question is, does it truly improve the graphics performance on macOS? To test this, I fired up Geekbench 4 and Cinebench. I would run it with the Intel Iris 550 first, and then on the RX 580.
Geekbench and Cinebench w/ Intel Graphics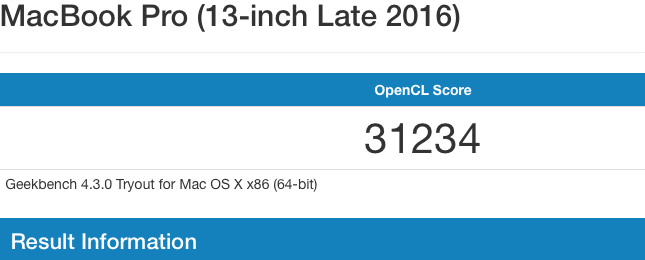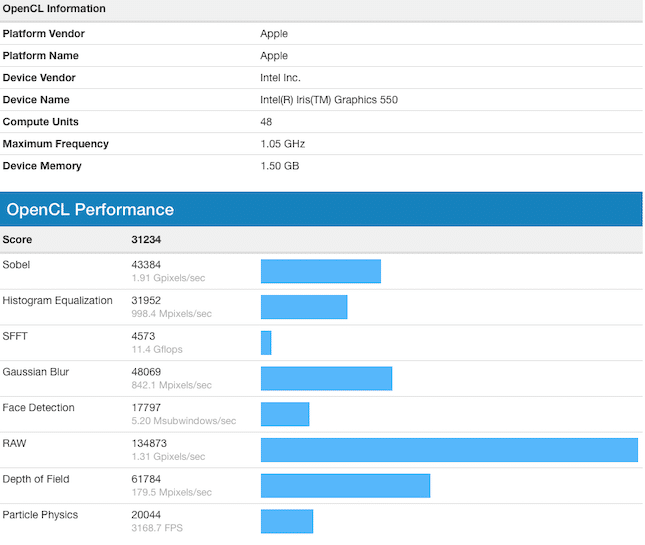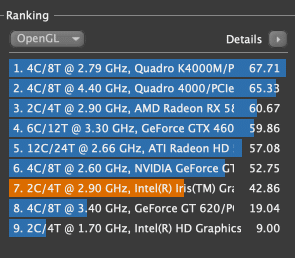 Geekbench and Cinebench w/ RX580 Graphics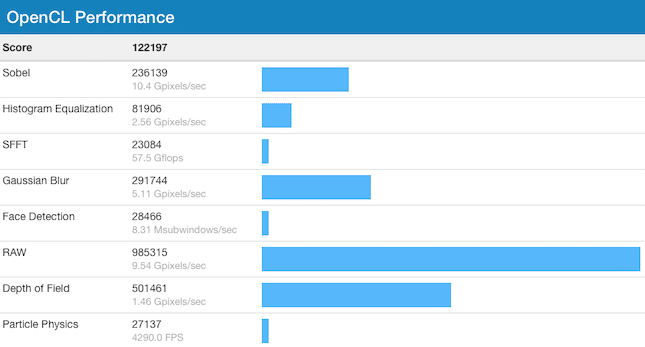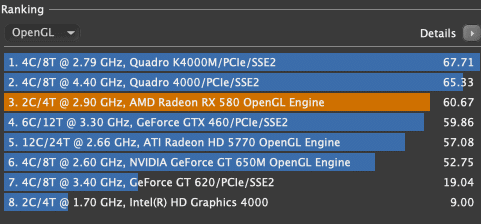 Wow! As you can see above, the VisionTek Thunderbolt 3 eGFX External GPU Enclosure works absolutely brilliantly. This isn't just benchmarks either -- the performance in games and Final Cut Pro are very obvious in real life usage. So yes, if you want to play games or do video editing on your Mac or Windows laptop, you will see significant improvements over the integrated Intel graphics. Hell, it should also work well with small desktop PCs, such as an Apple Mac Mini or Intel NUC.
So, do I recommend it? Well, that depends. It is an incredible piece of hardware -- that cannot be denied. If you need the added performance, you should definitely give it a look. With that said, it is a rather costly proposition. The eGPU enclosure itself costs $450, while a good RX 580, such as the one I tested, costs about $280. You are looking at about $730 (give or take) to improve graphics performance. Don't forget, however, it also adds docking station functionality, such as SATA storage, gigabit Ethernet, and USB Type-A ports.
If you can afford it, I absolutely recommend it -- it rocks. You can purchase it here.