Keep your software up-to-date and one eye on the latest downloads with Update Scanner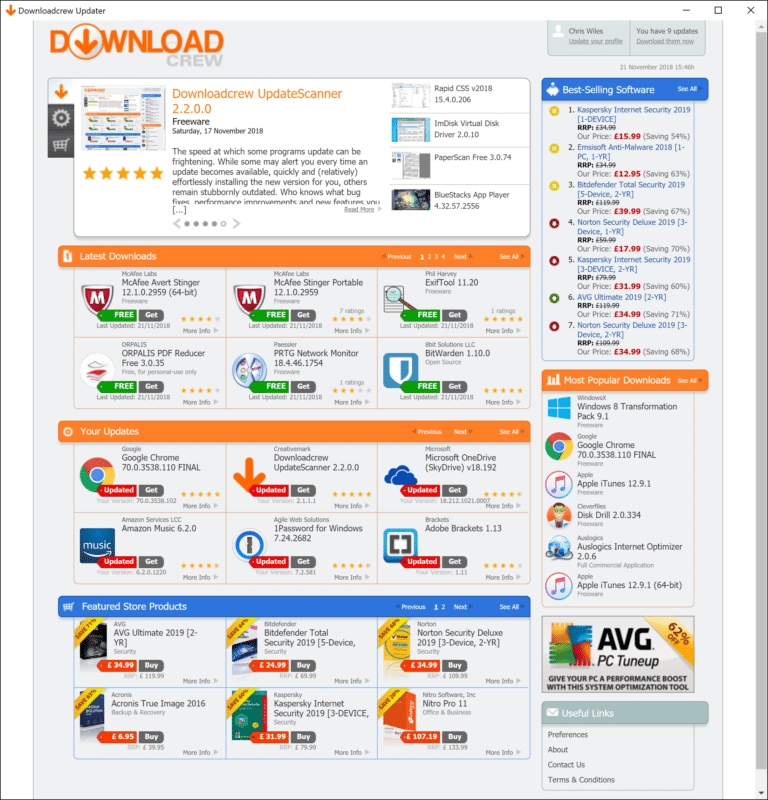 How many of us have time to keep an eye on every website, especially when you need to track the latest news, promotions, offers and deals? Some of us dislike all-in-one apps such as iTunes, but at least they bring together a range of sources within one handy tool.
With this in mind, we've created an Update Scanner for our Downloadcrew website, which enables you to follow the latest software releases, check for updates against your installed desktop apps, the latest news, store promotions and whether there's a full software Giveaway available.
Update Scanner 2.2 is here and it includes support for the latest Windows 10 October Update, along with a slightly redesigned user-interface.
Apart from keeping one eye on the latest software releases, Update Scanner will make sure you're notified whenever there is a new update for installed software. It will scan on system boot or pre-defined increments. If there's a new update, you can decide whether to download it.
It's worth adding that displaying updated software is an art not a science -- Update Scanner won't support beta, alpha or pre-release software, nor can it pick up obscure version numbers used by some software companies.
It also needs your support. If you find unsupported software (updates which Update Scanner doesn't notify), let us know by reporting the software as unsupported and we can update manually.
If you're based in the EU, we suggest downloading our separate Update Scanner for localized content.
There are other reasons for installing Update Scanner. It's also a source for future full software Giveaway notifications, as well as Black Friday and seasonal Software Store offers.
Download Update Scanner 2.2.