HUAWEI MateBook 13 laptop [Review]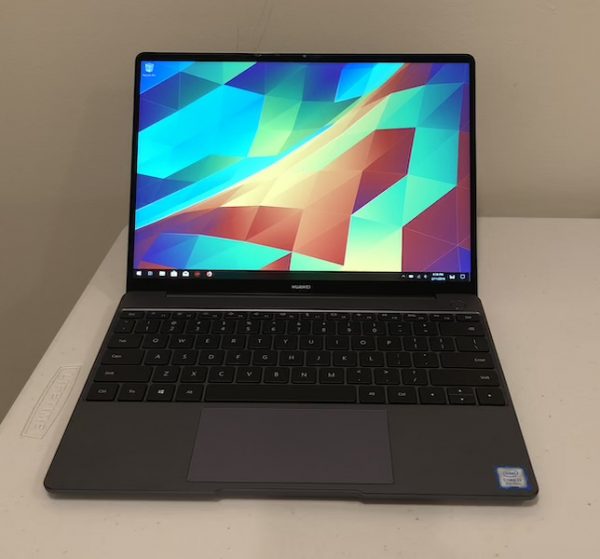 There is no such thing as a one-size-fits-all laptop. Sure, there are some computers that are built for general use and should meet the needs of many, but due to personal preferences, there will never be an overall consensus on style, size, or price. For instance, I personally find 13-inch laptops to be the best balance of portability and usefulness, but some folks will think such a screen is too small. Heck, some may even prefer an 11.6-inch screen -- such is life.
With all of that said, HUAWEI has created a laptop that should check all the boxes for many consumers. The "MateBook 13," as you can guess, has a 13-inch screen. It even has an option for NVIDIA graphics -- if you need such a thing. I have been testing this computer to see if it meets my expectations for what a laptop should be in 2019.
There are three aspects of a laptop on which I refuse to compromise -- display, keyboard, and trackpad. Look, you will be staring at that screen a lot, so it must delight. If the screen stinks, I don't care about the rest. Equally important is the keyboard -- I do a lot of writing, and I can't deal with uncomfortable keys or inaccurate key-presses.
Trackpads must be accurate too -- nothing is more frustrating than accidentally right-clicking when you mean to do left, and vice versa. I demand smooth scrolling too. Battery life is important to me, but since power outlets are fairly ubiquitous, I don't really need it to be class-leading -- I am flexible with that.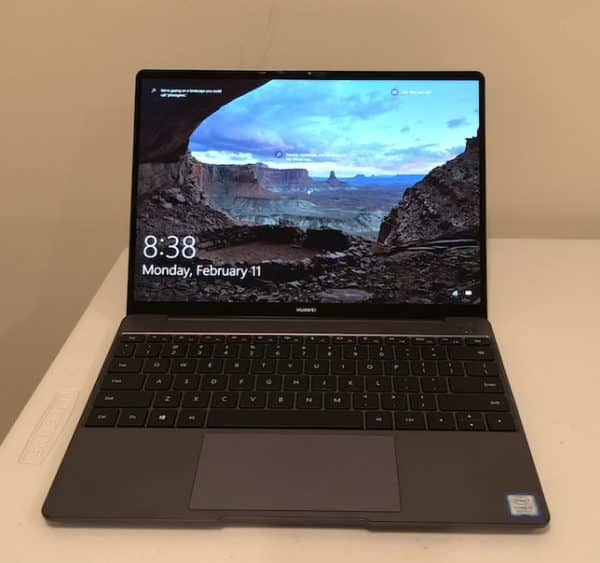 As soon as you power this laptop on, you will immediately be in awe of the touchscreen display. It uses a 3:2 aspect ratio, which is the sweet spot for overall computer use -- widescreen sucks, y'all. The 2160 x 1440 resolution and up-to 300 nits of brightness create a wonderful viewing experience -- it is a joy to watch videos, view pictures, and play games. Colors are vibrant and satisfying. This is the exact display that other manufacturers should emulate.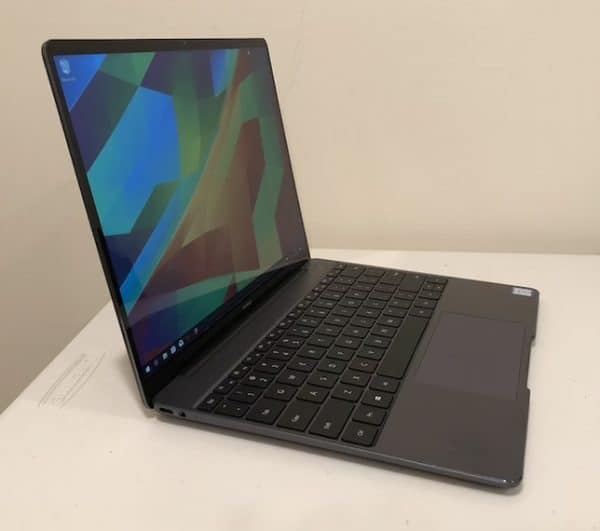 Speaking of media, the speakers are actually pretty darn good. If you are listening to music or watching a movie, you may want to pull out headphones (MateBook 13 has a 3.5mm audio jack) or a Bluetooth speaker for optimal enjoyment. But while on the go, the internal speakers get loud with limited distortion, making them totally passable. Bass is lacking, but that is common with laptop speakers. These speakers paired with the excellent display create a top-notch media consumption experience.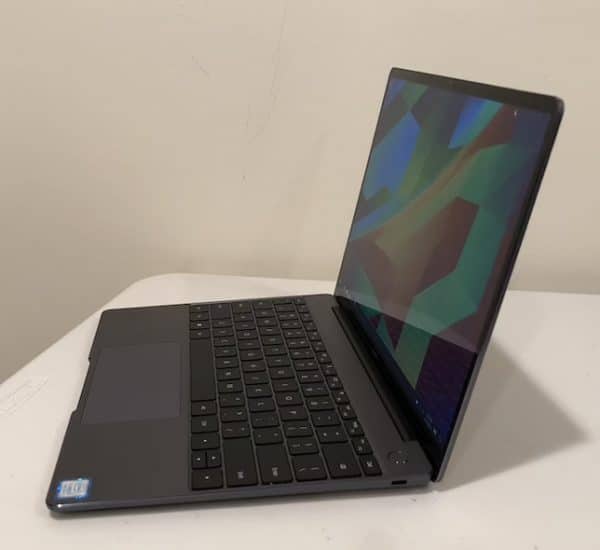 The real star of the show, however, is the superb backlit keyboard. The keys are well-spaced and offer good travel. The plastic has a nice soft feeling, which pleases my fingers when typing. Seriously, folks, the HUAWEI MateBook 13 laptop is a joy to type on. My typos were no more frequent than usual, and never did I feel like a key didn't register properly. I am the owner of a 2016 MacBook Pro, and I actually like Apple's much-maligned new butterfly keys, but typing on the MateBook is just far better. What a great writing machine.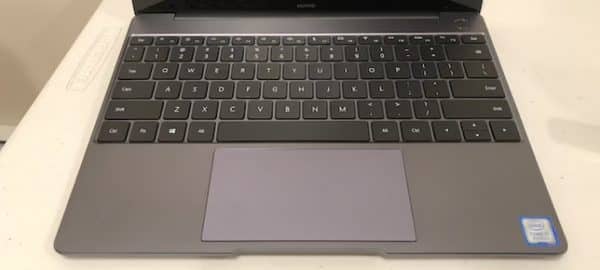 The big and roomy trackpad is a precision variant, meaning it is high-quality and works well with Windows 10. By default, tapping is enabled, meaning you can tap the trackpad rather than click it. I hate that -- on all computers. I tried leaving it on, but after accidentally selecting things (over and over again) while navigating, I quickly turned it off. With tapping deselected in settings, the trackpad works wonderfully -- scrolling, navigating, and selecting are all great. Unfortunately, as is the case with most Windows laptops, it is harder to click towards the top -- Apple avoids this by using haptic feedback trickery (that works really well).
Battery life, unfortunately, is not great. With normal use, I get between five and seven hours from the 41.8 Wh battery before needing to recharge. While there are other laptops that can far exceed that (even more than double it), it is totally fine for me -- and I bet many others too. With that said, battery life decreases as a battery ages, so it is better to start out with more than you need.
The battery charges using the USB-C port on the left -- you cannot use the other such port on the right. This is disappointing, as the charging cable is a bit short. If the outlet is to the right of you, the cable essentially gets shorter since you must run it around the back to the left side. The USB-C port on the right offers DisplayPort capability, however.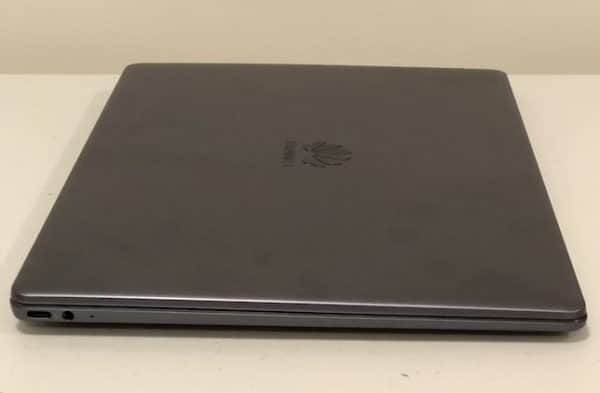 Other than the aforementioned 3.5mm audio jack, those two USB-C ports are all the connectivity options you have. There are no USB-A, SD card slot, or Ethernet -- for those things, you must use a dongle. Thankfully, Huawei will include such an adapter, providing video out (HDMI and VGA) and USB-A. I would recommend splurging on a third-party dongle that offers more ports, however, such at this.
Also disappointing? Neither of the two USB-C ports are Thunderbolt 3 compatible, so you cannot use any TB3 docks, dongles, or accessories. There is no way to add Thunderbolt capability, so you better make sure you don't need or want it before buying. This may be a dealbreaker for some, but the truth is, TB3 is sort of a niche thing.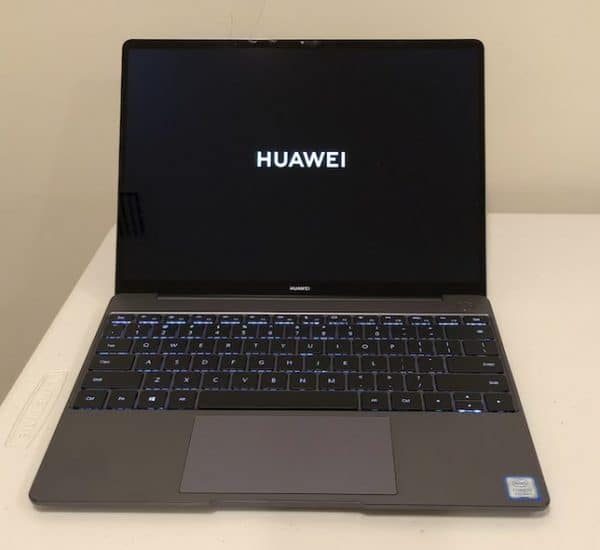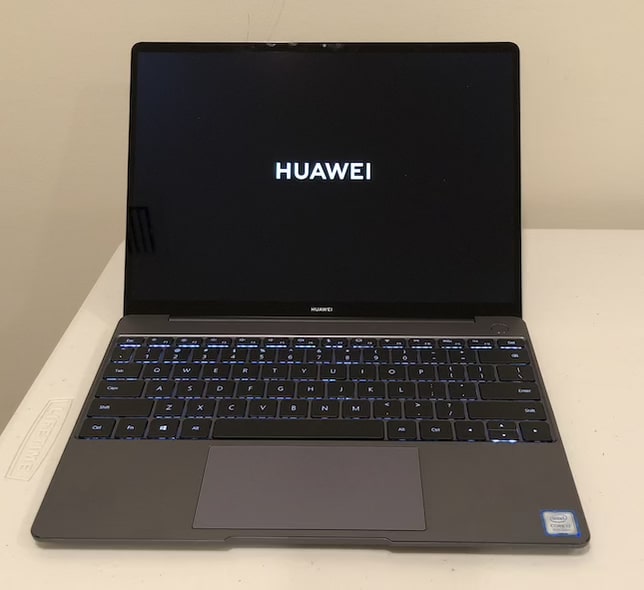 Let's talk about the internals. You have a choice of two brand new quad-core Whiskey Lake Intel processors -- a Core i5-8265U or Core i7-8565U. The machine I am testing has the latter, and it absolutely screams. Seriously, this chip is impressively powerful, and under heavy load, the MateBook 13 doesn't get overly hot -- nor does the fan get too loud. With that said, the laptop can get a bit warm, and the fan is audible. Those that prefer total silence simply can't get this performance in a passively cooled laptop. So if you want a powerful laptop, fan noise is unavoidable.
Strangely, no matter what configuration you choose, the max amount of RAM is 8GB (of the 2,133MHz LPDDR3 variety), and you cannot upgrade it later. In 2019 I sort of expect a 16GB option, but for most consumers, 8GB should be totally fine. Keep this in mind when making your decision about buying the MateBook 13 -- some professionals in particular will need 16GB (or more) memory. You can open the MateBook 13 up and swap the NVMe drive or wireless card -- at your own risk, of course.
Speaking of wireless cards, HUAWEI has supplied the excellent Intel AC-9560, which provides up to 1.73Gbps speed. Besides offering 802.11a/b/g/n/ac Wi-Fi, this chip also has Bluetooth 5.0 -- very nice.
The i7 variant does come with an NVIDIA GeForce MX150 GPU (and its 2GB GDDR5 dedicated memory) rather than just the ho-hum Intel graphics the i5 model has. This will provide a significant boost with light gaming and content creation, such as video editing. Keep in mind, this is not a gaming laptop, but you can play games that are reasonably non-taxing. The GPU is more designed to benefit media.
The Core i7 model also gets a large 512GB NVMe SSD, while the i5 gets half that -- just 256GB. The drive inside is the SN720 made by Western Digital. In my benchmarking, I averaged an impressive 3,400 MB/s read, and 2,400 MB/s write.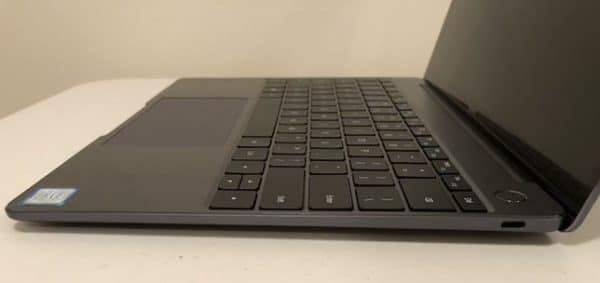 The webcam is actually quite decent -- it is 0.9MP 720p. Video is fairly grain-free, and it is surprisingly good in low light. Unfortunately, there is no privacy cover, and HUAWEI's pop-up hideaway camera is not to be found. This means putting tape over the lens if you are worried about hackers watching you.
I was kind of surprised that the webcam is not Windows Hello compatible, meaning you cannot login with your face. What MateBook 13 does have, however, is an excellent Hello compatible fingerprint reader on the powered button. With the laptop totally powered off, you can press the power button, and the computer will communicate your fingerprint verification to Windows. In other words, you don't have to put your finger on the reader when Windows starts -- you get logged in automatically from powering on! It works great, and I much prefer it to face unlock.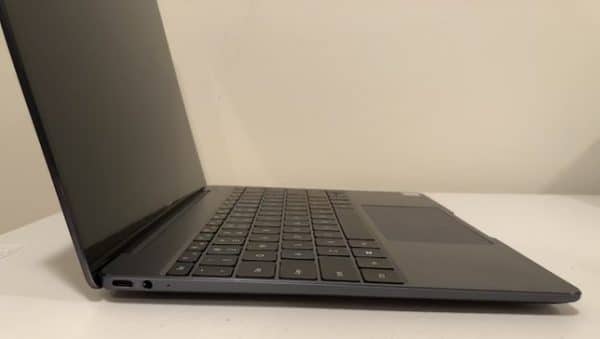 So, do I recommend the HUAWEI MateBook 13? Well, before I tell you that, let me reiterate the downsides. There is no Thunderbolt 3, and the RAM can only go up to 8GB. Battery life is lacking compared to other laptops on the market, and at just under 3 pounds, it is surprisingly hefty for such a svelte computer (width: 286 mm, height: 211 mm, depth: 14.9 mm).
Windows 10 is a passable operating system, but HUAWEI has chosen Windows 10 Home here rather than Pro -- this means no BitLocker despite having a TPM 2.0 chip. With that said, you do get a free year of Microsoft Office 365. Please note: I may try a Linux distro in the near future and report my findings.
And yet, despite those deficiencies, I love this laptop. Its aluminum body exudes elegance, rivaling -- and surpassing -- Apple's workmanship. The display and keyboard are way above average, while the Core i7 8565U and NVIDIA GeForce MX150 GPU offer impressive performance. Western Digital's solid state drive is blazing fast too -- I will have to pay more attention to its storage offerings in the future.
Well, folks, HUAWEI has done it again -- its computers and devices are consistently excellent. The Core i7 MateBook 13 is highly recommended and absolutely worth its $1,300 asking price. You can save $300 by opting for the Core i5 with its smaller SSD and Intel graphics, but I'd suggest sticking with the top model if you can swing it. You can buy it now [amazon_textlink asin='B07MK3SLG2' text='here' template='ProductLink' store='betanews02-20' marketplace='US' link_id='bb494dee-3aba-447a-ae4b-c4877b2f9b4c'].