HyperX Pulsefire Dart wireless gaming mouse has Qi charging and RGB lighting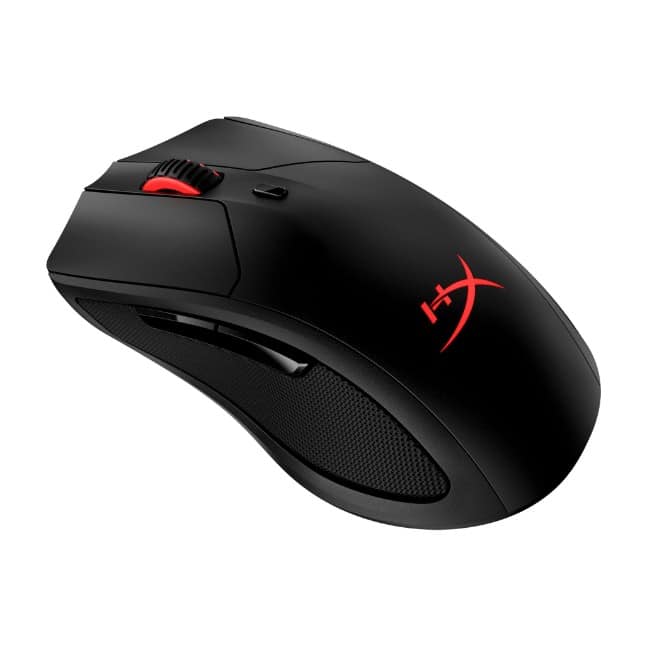 There are many gaming mice on the market these days, so it can be hard for a single model to stand out. I mean, look, there are only so many ways to make a mouse unique. And yet, today, HyperX launches such a product, and it is actually quite special.
Called "Pulsefire Dart," this looks like an ordinary wireless gaming mouse, but it has a pretty cool feature -- Qi charging. Yes, you can charge the mouse using one of those cool wireless charging mats -- the same ones used for Android devices and iPhones. In addition, it features RGB lighting, so you can customize the appearance to your liking.
ALSO READ: HyperX launches 4266MHz and 4600MHz 16GB Predator DDR4 RAM kits
"The HyperX Pulsefire Dart wireless gaming mouse offers up to 50 hours of battery life1 on a single charge and comfortable padded leatherette side-grips. Pulsefire Dart delivers pinpoint accuracy with its Pixart 3389 sensor and native DPI settings up to 16,000 DPI. The mouse also provides three preset DPI settings -- 800, 1600 and 3200 DPI -- with LED indicators. The left and right buttons use Omron switches for exceptional click feel, response and consistency and are rated up to 50 million clicks," says HyperX.
ALSO READ: HyperX unveils Cloud Alpha S gaming headset

The company further says, "Pulsefire Dart is built with an ergonomic design, including padded leatherette grips for palm or claw style gaming and a body style that fits users' palms comfortably for improved control. HyperX NGENUNITY software allows users to monitor battery life and offers advanced customization for RGB lighting effects2, six programmable buttons, macros and DPI settings. Pulsefire Dart is compatible with Qi-certified wireless charging devices. A 2.4 GHz wireless adapter is included to extend the range of desktop PC setups."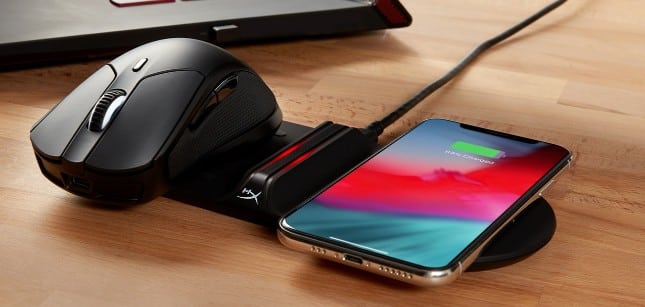 HyperX shares specifications below.
Ergonomic:

Ergonomic

Sensor:

Pixart PMW3389

Resolution

Up to 16000 DPI

DPI Presets:

800 / 1600 / 3200 DPI

Speed:

450ips

Acceleration:

50G

Buttons:

6

Left / Right buttons switches:

Omron

Left / Right buttons durability:

50 million clicks

Light effects:

Per-LED RGB lighting

Onboard memory:

1 profile

Connection type:

2.4GHz wireless / wired

Battery life:

90 hours -- LED off

50 hours -- Default LED Lighting

Charging type:

Wireless Qi charging / wired

Polling rate:

1000Hz

Cable type:

Detachable charging/data cable

Weight (without cable):

112g

Weight (with cable):

130g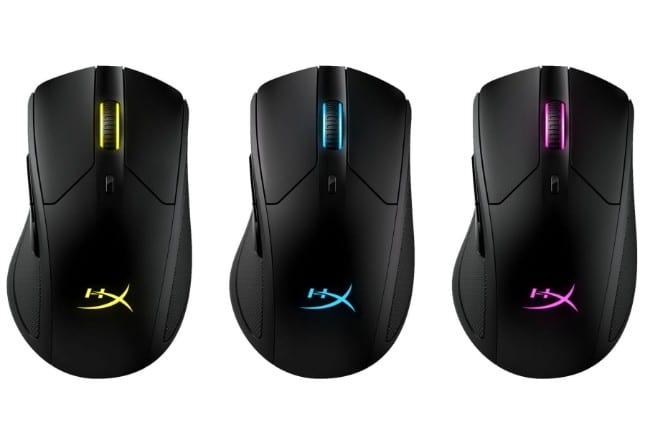 Jennifer Ishii, mouse business manager, HyperX provides the following statement.
HyperX recognizes the growing trend of devices that support wireless charging and is extending its support to its users to offer more ways for them to charge their wireless products. HyperX is launching wireless products with Qi wireless charging compatibility, including the ChargePlay Base, enabling users to charge their Qi-enabled gaming products, mobile phones and other devices. The Pulesfire Dart is our first wireless Qi-compatible gaming mouse, with padded leatherette side grips.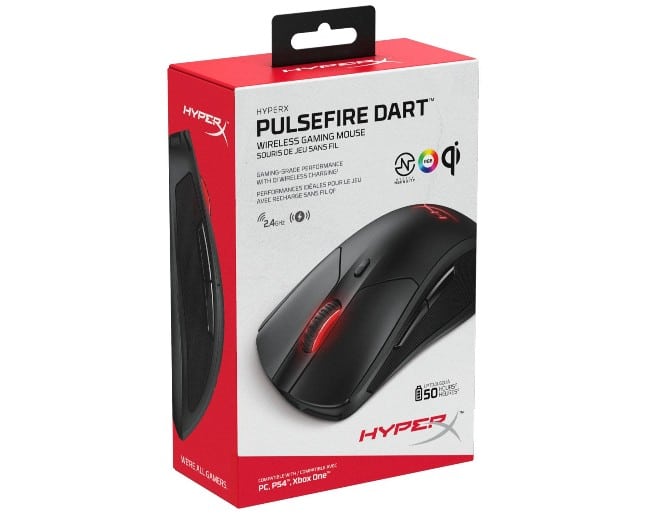 The HyperX Pulsefire Dart wireless gaming mouse can be had here for $99.99. At this price, you do not get a charging mat -- just a USB cable for wired charging. If you don't want to use an existing Qi charger you own, you can opt for the HyperX ChargePlay Base, which can be had here for $59.99. That charging pad is actually quite cool, as it can simultaneously charge your smartphone.