Minisforum launches AMD Ryzen-powered DESKMINI HM50 Windows 10 mini PC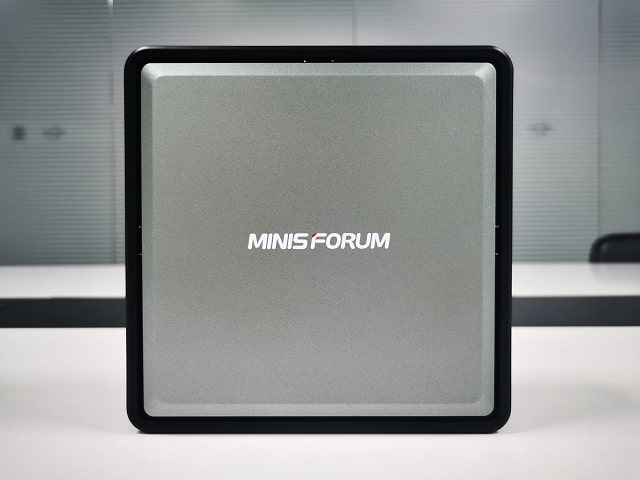 If you love mini desktop computers as much as I do, you absolutely must check out Minisforum. This manufacturer produces unique NUC-like computers with beautiful designs and respectable performance. They can typically run both Windows 10 and Linux wonderfully. We recently tested out the Intel-powered Minisforum EliteMini H31G and came away very impressed.
As an AMD fan, however, I am extremely excited about the company's latest offering. Called "DESKMINI HM50," this miniature desktop computer is powered by a six-core AMD Ryzen 5 4500U processor and features Radeon graphics.
While it comes with 16GB RAM standard, it will support up to 64GB. For storage, there are two capacities of NVMe SSDs -- 256GB and 512GB. Interwstrlingly, one of its two Ethernet ports are multi-gig -- 2.5G. Best of all, Minisforum suggests the HM50 should be quieter than prior models.
While the Minisforum DESKMINI HM50 mini comes with Windows 10 Pro, it should absolutely run Linux like a champ too. In fact, since it has both M.2 and 2.5-inch SATA drive options, you can easily put a Linux distribution on the secondary drive and dual-boot with Windows without the need to partition.
"Handily, the HM50 supports for a total of up to 64GB dual-channel DDR4 memory, also different types of storage expansions -- M.2 2280 PCle SSD and 2 x 2.5 inch SATA HDD Slot, you can mix and match between HDD and SSD according to actual needs," says Minisforum.
The company also says, "With an Intel AX200 Wi-Fi 6 and Bluetooth 5.1 adapter preinstalled, this tiny monster also provides various interfaces including two GbE ports, four USB 3.0 ports, two USB3.1Gen 2 ports, three additional display outputs (DisplayPort, HDMI, USB Type-C), and a 3.5 mm audio jack."
Minisforum shares specifications below.
Processor
AMD Ryzen 5 4500U , 6 Cores/6 Threads
(Total L2 Cache 3MB , Total L3 Cache 8MB , Base Clock 2.3 GHz , up to 4.0 GHz)
GPU
AMD Radeon Graphics (Graphics Frequency 1500 MHz)
Memory
DDR4 8GB×2 Dual channel (SODIMM Slots×2)
Storage
M.2 2280 256GB PCIe SSD
Storage Expansion
2.5 inch SATA HDD Slot×2 (SATA 3.0 6.0Gb/s)
Wireless Connectivity
M.2 2230 WIFI Support (Intel WIFI6 AX200 , BT5.1 pre-install)
Ethernet
1000Mbps LAN, 2500Mbps LAN
Video Output
HDMI (4K@60Hz), DisplayPort (4K@60Hz), USB-C Port(4K@60Hz, In Front)
Audio Output
HDMI, DisplayPort, 3.5mm Audio Jack (Green)
Peripherals Interface
RJ45 Gigabit Ethernet Port×1, RJ45 2.5 Gigabit Ethernet Port×1, USB 3.0 Port×4 (The Back), USB 3.1 Port×2 (Gen2, In Front), Clear CMOS ×1, COM PIN ×1 (internal)
Power
DC 19V/3.42A (adapter included) , via USB-C(power port)
System
Windows 10 Pro
Product Dimension
149.6*149.6*55.5mm
Package Dimension
175*175*110mm
Net Weight
0.7KG
Gross Weight
1.5KG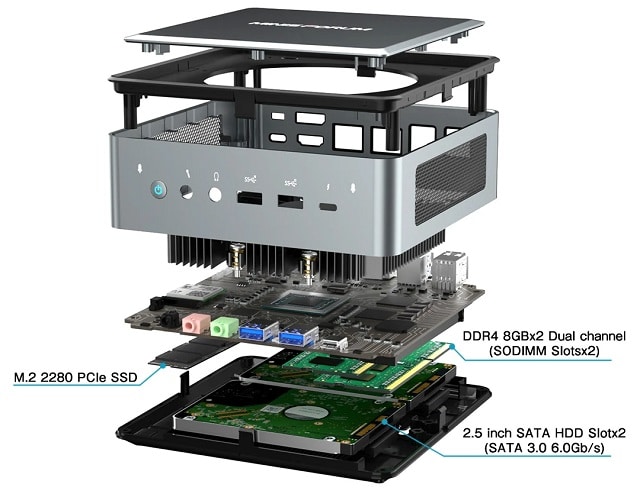 If you are interested in buying the AMD Ryzen-powered DESKMINI HM50 mini PC, you can do so immediately here. Pricing starts at $699, and that includes 16GB RAM and a 256GB SSD. Upgrading the SSD capacity to 512GB will cause the price to increase slightly to $739. Inside the box you will also get an HDMI cable and VESA mount.