Plugable UD-6950PDZ USB-C Triple 4K Docking Station has 3 HDMI and 3 DisplayPort video outputs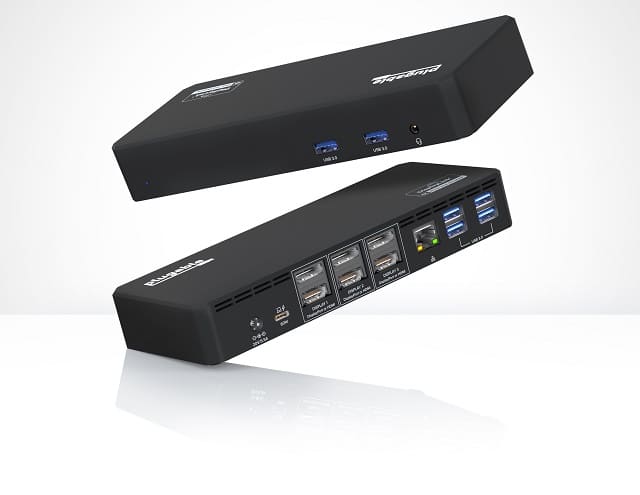 USB-C docking stations are a dime a dozen these days. There are so many on the market, it can be hard to get excited about new models. For one to stand out in the crowd, it has to be exceptional or offer functionality to make it special.
Well, folks, it seems Plugable has managed to announce a USB-C docking station that is legitimately exciting. Called "UD-6950PDZ," it supports up to three monitors running at 4K. While that is cool, it is not what makes it so special. Actually, the truly cool aspect is that it has six video outputs -- three HDMI and three DisplayPort. Only three of the six can be used at once, but by offering six ports, you can connect to three monitors using HDMI or DisplayPort without ever needing a dongle.
"The UD-6950PDZ has enough ports to turn a laptop into a fully accessorized workstation with space for up to three additional 4K displays, Gigabit Ethernet port, an audio jack, six USB 3.0 ports, and 60W charging to the host laptop. This docking station is perfect for users juggling different connections and peripherals, allowing users to easily connect up to 11 devices all through a single cable back to their laptop," explains Plugable.
ALSO READ: OWC Atlas FXR is the world's smallest Thunderbolt CFexpress card reader
The company adds, "Compatible with Windows 10, 11 or macOS 11+, the UD-6950PDZ is the simplest way to turn your laptop into a high-resolution command center. Its innovative design includes three DisplayPort ports and three HDMI ports allowing users to mix and match monitors when building their triple display home or work set up. The specialized chipset with Displaylink technology allows the M1 Mac and other laptops that natively only support one display to add three total screens."
ALSO READ: Linksys launches Hydra Pro 6 (MR5500) Dual-Band AX5400 Mesh Wi-Fi 6 Router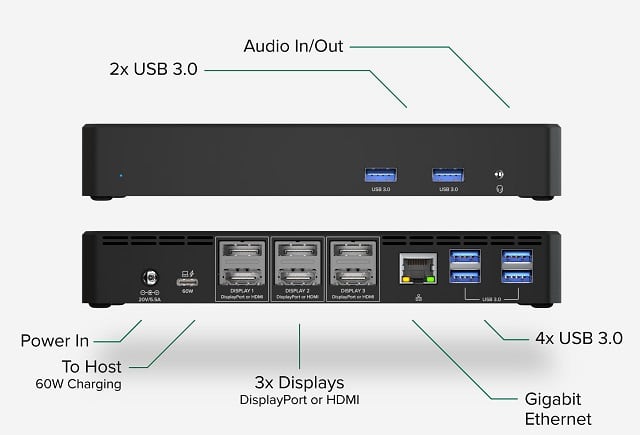 The UD-6950PDZ USB-C Triple 4K Docking Station will be available soon for $249. Plugable doesn't give an exact release date, simply promising Q1 of 2022. With that said, you should be able to order it here very soon. You can also sign up for availability email alerts here.
Please note: Some of the above links may be affiliate links, meaning we, or our writers, may receive payment if you purchase one of these items (or other items) after clicking on them.