Microsoft is giving the Windows 11 Task Manager a colorful makeover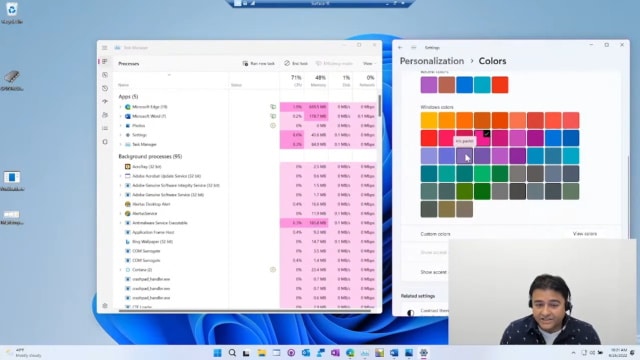 In recent builds of Windows 11, Microsoft has been giving Task Manager more attention than usual. We have already seen the addition of new keyboard shortcuts and a new Efficiency mode, but there are more changes on the way.
Having given Task Manager a modern makeover, complete with support for dark mode, Microsoft is now giving users the option of adding a splash of color to the utility.
See also:
While Task Manager may not be the first app you think of tweaking the appearance of, Microsoft has listened to feedback from users who are unhappy with the look of the tool. As such, the company is planning to add accent color support to Task Manager so that it will better observe the settings you have put in place for Windows 11 as a whole and will blend in better with other apps.
The change means that whatever accent color you have chosen in the Personalization section of the Settings app -- the color that is used to highlight elements of the Windows user interface -- will also be used in Task Manager. It replaces the mustard yellow highlight that has apparently displeased many people.
You can check out a recording of a recent Windows Insider webcast and see the upcoming changes for yourself:
The greater consistency across Windows 11 is something that will please sticklers for uniformity, but Microsoft has not indicated if we can expect to see the changes in the upcoming Insider build or if there is a longer wait ahead.