Rows brings the power of GPT-3 AI to spreadsheets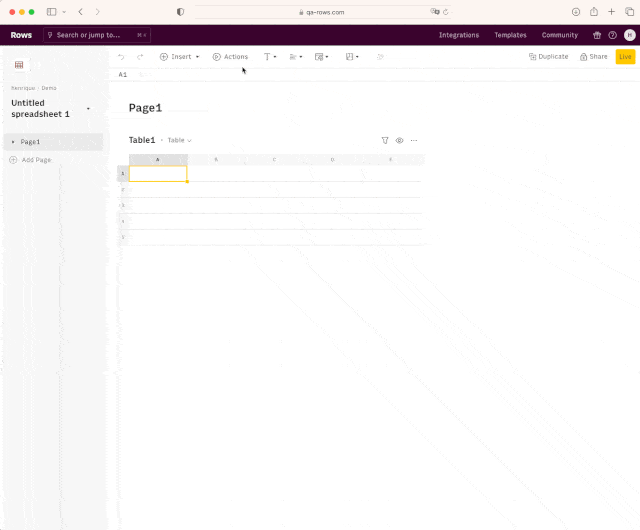 Following the massive success of OpenAI's ChatGPT, AI is being added to a growing number of tools and services. A couple of days ago, Microsoft released Moment 2 for Windows 11, adding a number of new features to the new OS, including bringing its AI-powered Bing preview to the taskbar.
Today, Berlin-based spreadsheet company Rows announces a new version of its online worksheet tool which comes with GPT-3 AI capabilities built in, as well as third-party integrations, giving users access to over one billion functions.
SEE ALSO: Meet DAN, ChatGPT's uncensored alter ego
Rows co-founder and CEO, Humberto Ayres Pereira, explains:
Spreadsheets run the world; they're a seriously powerful tool used by so many on a regular basis. However, they've been disconnected from the technology that surrounds them. The creation of the iPhone saw software integration take on a whole new meaning, but the same hasn't happened for spreadsheets. This is especially true for business professionals.

Today, a performance marketer who wants to build a report needs to manually import data from Facebook, Google or LinkedIn, upload it to a spreadsheet, compute the numbers, add several charts floating on the spreadsheet and find a way of sharing that report without feeling embarrassed. For far too long, sharing data in a spreadsheet has been particularly bad, incompatible with a mobile-first world.

With 86 percent of the global population owning a smartphone, this uncoupling is unacceptable.
Key features of the update include:
· OpenAI integration -- acts as a co-pilot for Rows users to automate functions from across the internet into one place, including automatic text like summarization, classification, or translation, including a new feature that allows people to create lists of data generated by GPT-3
· BigQuery integration -- a native integration with Google's data warehouse solution that allows people to import tables and runs automatic SQL queries directly in the spreadsheet
· Rows API -- allows programmers to build their own software solutions and import data to Rows through an automated process, so users can integrate third-party services into spreadsheets
· Connectors (powered by the Rows API) with Zapier, Make.com and Looker -- a range of popular workflow tools can exchange data directly with Rows spreadsheets
· New grid features -- including Freeze Panes to lock rows and columns within sheets, now supporting up to two million cells per table
· Interactive charts and tables -- embedded in tools such as Notion and Confluence to further enhance the integration of Rows spreadsheets
Humberto Ayres Pereira adds "With our new update, Rows becomes the easiest way to import, transform and share data in a spreadsheet. With easy access to their business data, a state-of-the-art artificial intelligence co-pilot, clean elegant documents and a slick mobile-first sharing experience, teams can make better decisions, and build spreadsheets to the twenty-first century."
Available in Free, Plus and Pro versions, you can find out about AI in Rows and start using it here.