Microsoft releases Windows 11 Build 25314 to the new Canary Channel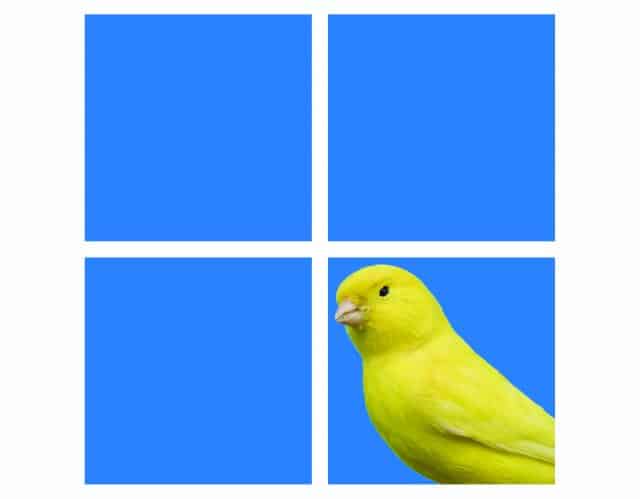 As well as releasing a new Windows 11 build to the 'rebooted' Dev Channel, Microsoft today gives Windows Insiders their very first Canary Channel flight, Build 25314.
Announced earlier in the week, the new Canary Channel will be the "place to preview platform changes that require longer-lead time before getting released to customers". Examples of this will include major changes to the Windows kernel, new APIs, and so on.
Microsoft further explains:
The builds that will be flighted to the Canary Channel will be "hot off the presses," flighting very soon after they are built, which means very little validation and documentation will be done before they are offered to Insiders. These builds could include major issues that could result in not being able to use your PC correctly or even in some rare cases require you to reinstall Windows. We will offer limited documentation for the Canary Channel, but we will not publish a blog post for every flight -- only when new features are available in a build.
SEE ALSO:
So what's new in Build 25314?
Access key shortcuts are being added to the XAML context menu in File Explorer, and File Recommendations are coming to File Explorer Home. Both of these additions are also in the Dev Channel release, Build 23403.
Local Security Authority (LSA) Protection Enablement on Upgrade is also being introduced. Microsoft says of this new feature:
Local Security Authority (LSA) protection helps protect against theft of secrets and credentials used for logon by preventing unauthorized code from running in the LSA process and by preventing dumping of process memory. Starting with on upgrade, we will audit for a period of time to check for incompatibilities with LSA protection. If we do not detect any incompatibilities, we will automatically turn on LSA Protection. You can check and change the enablement state of LSA protection in the Windows Security application under the Device Security > Core Isolation page.
Other changes and improvements in this first Canary Channel build include:
To increase security in Windows 11, starting with this build and later Microsoft is disabling the Remote Mailslot Protocol by default. The legacy Remote Mailslot Protocol is a simple, unreliable, insecure, and unidirectional inter-process communications protocol between a client and server and was introduced in Windows NT 3.1 and will be deprecated in a future Windows release. If an application attempts to open a Remote Mailslot session over the SMB protocol, you may see one or more of the following errors:
3025 ERROR_REMOTE_MAILSLOTS_DEPRECATED
"The requested operation failed. Remote mailslots have been deprecated."
If your application still uses Remote Mailslot, contact your vendor about updating their software. The legacy Remote Mailslot is not secure and should not be used under any circumstances. If you need to temporarily enable Remote Mailslot, run the following command in an elevated PowerShell console:
PS C:\> Set-SmbClientConfiguration -EnableMailslots $true
Image credit: fezave/ depositphotos