The next killer app: What the OpenAI investment means for Microsoft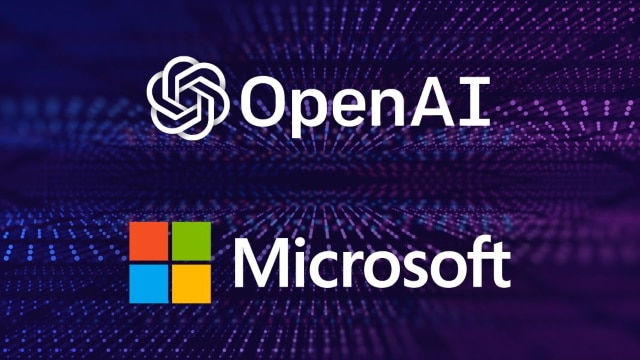 Earnings season in January 2023 was a bit of a mixed bag for cloud providers. The latest financial reports show that, following a dip in cloud revenue, Microsoft's earnings missed Wall Street estimates at the end of 2022. The negative economic climate that took hold in 2022 is clearly having an impact, forcing users to make difficult decisions about their cloud spending.
But as always, the best of Silicon Valley is relentlessly planning for the future -- not focused on present uncertainty. So enters ChatGPT. The news that Microsoft had put $10 billion additional investment into OpenAI, the company behind ChatGPT, shook the tech industry.
But this investment was not a bolt from the blue. This was a major strategic play from Microsoft. In the face of declining cloud revenues, it was crucial that Microsoft lined itself up with the next killer app that would drive engagement on Microsoft Azure cloud, matching the demand for compute of the AWS-powered Amazon eCommerce behemoth or Google Cloud's eponymous search engine. And, with ChatGPT, it appears that Microsoft may have done just that.
In recent weeks we've seen the media awash with the capabilities of ChatGPT, as more and more people wake up to the potential impact of this technology. Running on generative AI, it uses OpenAI's large language model, GPT-3. This model is trained on a vast quantity of data across books, articles, websites and more, allowing it to generate compelling text responses -- when given a prompt.
Potential outputs are only limited by your imagination. Its rapidly generated content has huge implications across a host of industries. We are already seeing a huge reckoning with the technology in the media. Buzzfeed announced it plans to integrate ChatGPT into its creation of quizzes and other content. UK publisher Reach is also exploring a similar move to support rapid creation of local news stories.
The creation of rapid, compelling content holds particularly difficult implications for education. As more and more students become aware of its tools, universities have been forced to create official guidelines on how AI-generated essays can be graded and submitted by students. Some Australian universities have already mandated a return to pen-and-paper exams to avoid the influence of AI on essays.
The new search wars
Beyond all the noise, the most concrete, short-term impact of ChatGPT may well be in search. Microsoft has officially announced that ChatGPT will be progressively integrated into its search engine, Bing, and its Microsoft Edge browser. With this announcement, we're seeing Microsoft come out swinging and truly challenging Google's dominance in the search space. Marketed as 'your co-pilot for the web', Microsoft is using the capability to move into the next era of search, with more relevant and specific searches that curate the internet to you. 
Historically, Google has been viewed as synonymous with searching on the internet. ChatGPT is Microsoft's play for a killer app to challenge this crown. There are strong foundations to build on. According to UBS, ChatGPT reached 100 million active users in January -- making it the fastest growing app in history. Of course, this is not currently a threat to Google, which claims 92 percent of the search engine market share -- Bing by comparison sits at 2.5 percent. But the transformative potential of AI-powered search has left many confident that Bing's market share will grow. And the more this grows, the more Microsoft will see a rise in compute activity on its Azure platform.
With Microsoft and Google both putting forward their new AI-powered capabilities, we're entering into a new era of search wars. Between Bard, Google's newly launched LaMDA-powered tool, and the integration of ChatGPT into Bing, the race is on to capitalize on AI integration to make the experience of search as useful and personalized to the user as possible. Though after a disappointing early demo wiped $100 billion off Google's share price, Bard may have some catching up to do.
Integrating ChatGPT into the Microsoft ecosystem
ChatGPT looks set to be a huge asset for growing Microsoft's far-reaching ecosystem of products, services, and partner organizations. It has already announced a ChatGPT-powered premium Microsoft Teams service, offering users tools to automatically take notes from a call and suggest follow-up tasks. Here we see the value of AI in augmenting the capabilities of human workers, cutting down on repetitive, time-consuming manual tasks and focusing on high-value outputs.
A deeper dive into the semantics of the OpenAI-Microsoft deal broadens the picture further. We can see that Microsoft will get 75-79 percent of the revenue that OpenAI makes until their debt is paid off, when they will then become a 49 percent shareholder -- the fact that it is not a majority is viewed as crucial in allaying any fears that Microsoft would infringe on the 'openness' of OpenAI. The deal allows Microsoft to use the technology in other parts of their business, such as search. It also connects Microsoft with OpenAI's own ecosystem of AI start-ups, which are backed with a $100 million OpenAI Startup Fund. Microsoft can invest in these firms, support their growth, and provide them with access to Microsoft Azure to grow their products.
At its heart, it is a deal that made sense for OpenAI (with very complex queries costing roughly 2 cents each, it needed the power of Azure to dynamically and reliably scale) as much as it offered Microsoft its killer, compute-heavy app to fuel its next era of growth.
Longer term, the deal is aimed at making Microsoft the home of future AI innovation. The recent general availability of Azure OpenAI Service underlined that OpenAI's cutting-edge large language models like GTP-3 are now a core part of the Azure package. The message is clear: signing up for Azure gives you access to cutting edge AI technology to deliver improved outcomes for their business -- ready to scale on the "AI-optimized infrastructure of Microsoft Azure".
Entering the fourth industrial revolution
Overall, it's clear we're witnessing a new age of technology, the like of which we have not seen since the launch of the iPhone. ChatGPT is the first publicly available iteration of AGI, a form of AI designed to be smarter than us, and its popularity is a sign it's here to stay. So far, we've seen the uptake of the technology by lots of companies, such as Creative Fabrique, which uses the tech to produce AI-enhanced designs and raised $61 million in funding in January.
It's clear that we're in a new era for AI. The next decade is going to see AI advancements take off exponentially, able to handle more and more complex use cases and supporting the advancement of next generation technologies that will make up The Fourth Industrial Revolution. The question now is how human workers can integrate it into their daily lives. If ChatGPT is successful, Microsoft will have the next big thing in tech -- reliably driving their revenue for years to come and giving them an edge over their competitors.
Gordon McKenna is VP, Cloud Evangelist & Alliances at Ensono.