WinSnap 6.01 unveils modern facelift, major reorganization of tools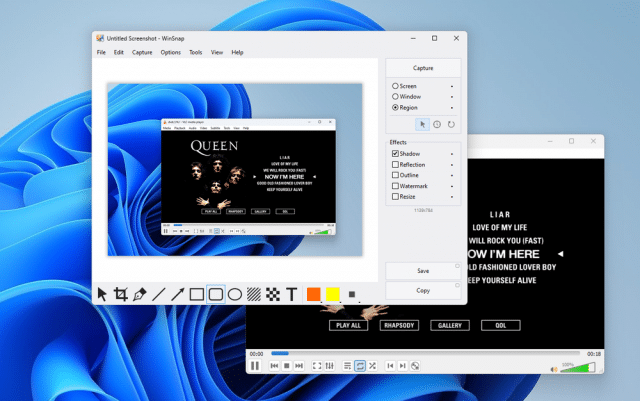 NTWind Software has unveiled a major new version of its powerful shareware screen capture tool for Windows. WinSnap 6.0.1 comes with a Windows 11-friendly facelift, a reorganization of its major tools and some useful improvements.
The biggest improvement is immediately apparent when the program first opens -- it now boasts a modern UI in keeping with the Windows 11 desktop, complete with support for automatic switching between dark and light modes.
Users will also notice a major revamp of the Capture section, with the number of choices apparently reduced to just three: Screen, Window and Region. Existing users need not fret, however -- the old choices remain, but have been organized according to the three parent types, so those looking for Application or Object can find them by clicking the . button next to Window, for example.
Users will also notice the addition of a 'Repeat Last Capture' button, while the Resize options is now displayed as a checkbox as opposed to a combo box, with the advanced options again hidden behind a . button in keeping with the rest of the user interface.
These changes are accompanied by revamped Capture and Options menus, which both mirror the options shown under Capture and Effects.
Other changes see the Background effect moved to the shape properties dialog -- accessed by right-clicking the shape created using WinSnap's drawing tools. The region capture mode gains a larger magnifier, while the auto-save and auto-copy options now reside as small buttons on the Save and Copy buttons respectively.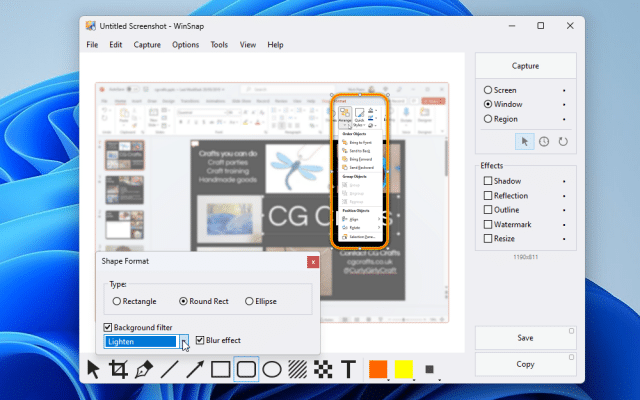 The update removes all third-party language files with a plea for new translations, while WinSnap 6 is rounded off with the promise of (unspecified) fixes and improvements for HDPI displays.
WinSnap 6.0.1 is available now as a free trial download for Windows PCs. A lifetime 1-user license has an MSRP of $29.95 but is currently available through NTWind for just $23.95 along with family and various business licenses.