[UPDATED] Content Adaptive Brightness Control will make Windows 11 more energy-efficient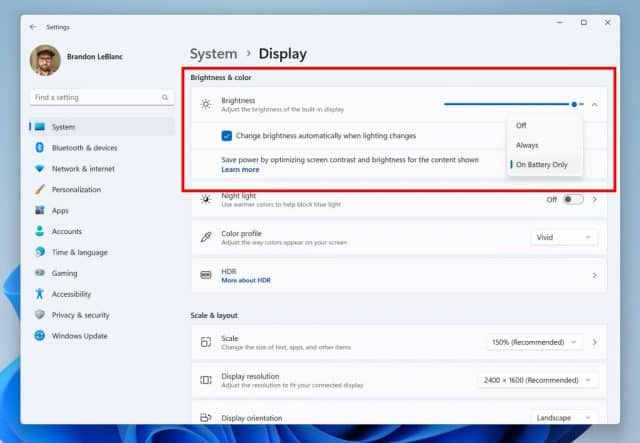 Adaptive screen brightness is a familiar function of smartphones, with both iOS and Android boosting brightness in lighter conditions to improve screen visibility, and dimming it when it is darker so you're not blinded during nocturnal social media sessions. Now Microsoft is bringing a similar -- but better -- feature to Windows 11.
Microsoft's take on the feature is called Content Adaptive Brightness Control (CABC). There is a clue in the name about how it works, and it is about more than just ambient lighting conditions. [UPDATE: Microsoft has had something of a change of heart, as detailed here.]
See also:
Currently undergoing testing with Windows Insiders, Content Adaptive Brightness Control can be found in Windows 11 Build 23424 which was recently released to the Dev Channel. Adaptive brightness is usually used to help increase battery life of mobile devices, but now Microsoft is bringing the same energy saving to desktop PCs and plugged in laptops.
As the name suggests, Content Adaptive Brightness Control reduces energy consumption by using different brightness settings for different areas of a screen, depending on what is currently displayed. Microsoft shares some details about the new energy saving feature in a blog post:
Content Adaptive Brightness Control (CABC) is already a feature that users are familiar with. This feature in Windows 11 will dim or brighten areas of a display or monitor based on the content being displayed with the goal of striking a balance between reduced power consumption with visual experience to save battery life. Starting with this build, we are allowing this feature to run on devices such as laptops and 2-in-1's that are plugged into a charger, as well as on desktop PCs. For most users, this change won't be noticeable and should reduce energy consumption.
If you're on the Dev Channel and have Windows 11 Build 23424 installed, Microsoft explains how to use CABC:
This feature can be adjusted via Settings > System > Display under "Brightness & color" and through a drop-down menu with 3 options: Off, Always, and "On Battery Only". For battery powered devices such as laptops and 2-in-1's, the default is "On Battery Only". On desktop PCs, this is off by default. We encourage Insiders across laptops, 2-in1's, and desktop PCs to try the "Always" option and give us feedback on the visual quality of CABC so we can ensure it is properly tuned.
With Content Adaptive Brightness Control currently only available in the Dev builds of Windows 11, it's not clear quite how long everyone else will have to wait to try it out.