WingetUI update makes it even easier to use Windows Package Manage with a GUI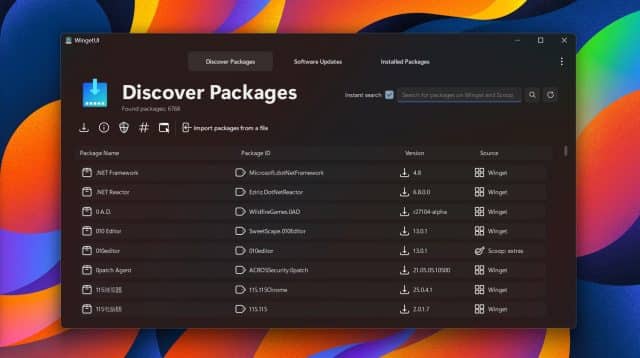 Linux users have long had access to package managers for downloading software; there are a huge number to choose from. Windows users have the option of using Microsoft's Winget (or Windows Package Manager as it is also known), but as this needs to be used via the Windows Terminal, PowerShell or the Command Prompt, it is not a tool for everyone.
And this is why WingetUI exists for both Windows 10 and Windows 11. It gives the text-based Winget a friendly, accessible user interface that makes it much, much easier to use. WingetUI 1.7.0 has just been released, improving on previous versions with a range of additions such as package skipping.
See also:
While the tool is primarily designed as a user-friendly way of accessing Winget, it can also be used with other package manager. In addition to Winget, WingetUI can be used with Scoop and Chocolatey.
The changelog for WingetUI 1.7.0 is pretty lengthy.
Here's a list of the new features, as shared by the developers:
A new interface is available to ignore updates. It allows:

Skipping a version of a package.

Viewing and removing single packages from the blacklist

The Package Details window has a new section that allows to customize the install:

All the options are under a collapsable widget

User can modify:

Installation environment (user or machine, local or global, etc.)

Version to install (can automatically blacklist packages when installed, so older versions don't get updated when installed manually)

Custom parameters to pass to the installer. There is now a textbox to be able to do that

The Command label has been improved to adapt to the new options and toggles.

Notifications have been reworked:

Notifications will now show buttons on them, to make quick actions easier to reach.

Notifications can now be enabled/disabled depending on their category.

A new, system-integrated share popup has been implemented
Administrator preferences have been reworked:

Package managers can be automatically elevated.

The user has the option to cache administrator rights.
In addition to the new features, the latest version of WingetUI also includes a number of improvements:
WingetUI Interface has been improved:

Context menus have more options, and more organized
Toolbars show more relevant actions, removing some redundancies with the context menus
Scrolling has been improved, featuring:

Smooth mouse scrolling
Better support for keyboard scrolling
Reurn to top buttons

The launch popup has been improved.
TreeWidgets StyleSheets have been improved to use more efficiently the space available on the window
Transparencies have been reworked across the interface, in a way where the interface is now much more responsive

Chocolatey support has been improved:

Installations won't show a 20-second delay anymore
More information is available in the details window

Scoop support has been improved:

Packages are now cached, so loading times are notably faster.
More information is available in the details window
Error handling has been improved on already-installed updates.
Auto-elevation has been improved on uninstalls

Winget support has been improved:

Packages are now cached, so loading times are notably faster.
Error handling has been improved on already-installed updates.
"Unknown" updates are now properly handled (thanks to the new version skipping feature)
More details are available over on the WingetUI GitHub repository where you can also download the tool.