Logitech unveils MX Keys S Combo, MX Keys S, and MX Anywhere 3S for advanced users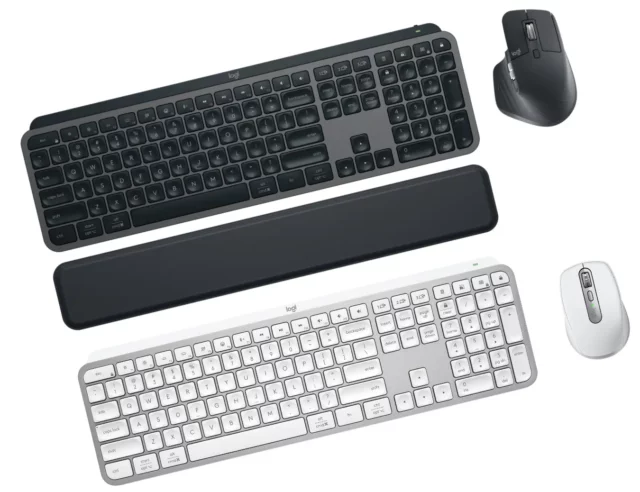 Today, Logitech unveils its latest additions to the premium Master Series line -- MX Keys S Combo, MX Keys S, and MX Anywhere 3S. These products are designed for advanced users, including software developers and creative professionals. With the introduction of a new feature called Smart Actions in Logi Options+, Logitech aims to enhance users' productivity and help them achieve their "flow state," a period of optimal performance and heightened focus.
One of the notable features of these new Logitech products is the Smart Actions capability within the Logi Options+ App. This feature empowers users to automate repetitive tasks and streamline their workflow with macros, enabling them to accomplish more in less time. Predefined customizable Smart Actions are included to assist users in automating common tasks effectively.
The MX Keys S Combo, the flagship offering in this lineup, combines the upgraded MX Keys S keyboard, the popular MX Master 3S mouse, and the comfortable MX Palm Rest. This powerful combination enhances productivity and precision, making it an ideal choice for skilled professionals focused on achieving high levels of creation and output. The keyboard boasts smart backlighting and customizable keys, while the mouse features quiet clicks, fast and precise scrolling, and an 8K DPI sensor capable of tracking on all surfaces, including glass.
The MX Keys S Advanced Wireless Illuminated Keyboard delivers a superior low-profile typing experience. Logitech has designed the keys to be shaped for the fingertips, providing fast, fluid, and Perfect Stroke typing in a comfortable design. The keyboard also features smart illumination, adjusting the backlighting as the user's hands approach and adapting to the room's lighting conditions. Users can now personalize the illumination settings through the Logi Options+ app. Available in Graphite and Pale Gray, the MX Keys S includes three new keys dedicated to productivity and collaboration: talk to text, mute/unmute microphone, and emoji.
For users seeking performance, portability, and comfort on the go, Logitech offers the MX Anywhere 3S. This advanced wireless compact mouse combines speed, precision, and silence with its MagSpeed electromagnetic scrolling and Quiet Click technology. The MX Anywhere 3S features an 8,000 DPI optical sensor capable of tracking on virtually any surface, including glass. It is designed to accompany users in various workspaces, both at home and in the office. The MX Anywhere 3S for Business variant includes Logi Bolt receiver for secure wireless connectivity and improved RF performance, along with Sync support for remote monitoring.
In line with its commitment to sustainability, Logitech has incorporated eco-friendly elements in the design of the new MX products. These include the use of certified post-consumer recycled plastic in the MX Keys S, MX Keys S Combo, and MX Anywhere 3S, giving a second life to end-of-use plastic from old consumer electronics. The MX Keys S also features an aluminum plate made using renewable energy, reducing its carbon impact. The packaging materials are sourced from FSC-certified forests and other controlled sources, supporting responsible forest management. All Logitech products are certified carbon neutral and manufactured using renewable energy whenever possible, further reducing their environmental footprint.
The MX Keys S, MX Keys S Combo, and MX Anywhere 3S can be purchased from Logitech directly today. The MX Keys S is available for $109.99 here, while the MX Keys S Combo can be had for $199.99 here, The MX Anywhere 3S can be bought for $79.99 here. Additionally, the MX Anywhere 3S for Business variant is available here for $89.99.