Facebook now allows you to create multiple personal profiles so you can maintain separate online personas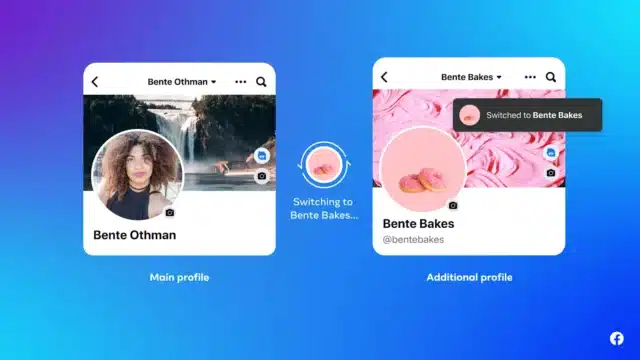 After a period of experimentation, Meta has finally decided to permit users to create multiple Facebook profiles. Each profile -- and you can have up to four -- can have its own connections, and will have its own customized Feed.
Meta suggests that Facebook users could use the new option to keep personal and professional relationships separate, but there are many reasons for wanting to maintain more than one Facebook profile. But while the change to allow multiple profiles is a big one, there are limitations and some things are not changing.
See also:
Although it is possible to have more than one personal profile, Facebook still requires that the main profile "must be in the name you go by in everyday life". The additional profiles -- essentially sub-profiles -- can be under any name, but Facebook says the rules governing primary profiles are an attempt to avoid impersonation and misrepresentation.
The company stresses that "additional profiles cannot impersonate others or be used to misrepresent your identity (including your age or location)".
Announcing the change, which is in the process of rolling out globally, Meta says;
Sometimes separate is simpler, so we're making it easier to customize your experience on Facebook with multiple personal profiles. Whether you're new to Facebook or a longtime user, you may want to keep your personal and professional relationships separate, or you may want to keep one profile tied to a community you're a part of and another profile just for friends. Creating multiple personal profiles lets you easily organize who you share with and what content you see for the various parts of your life. Think one profile for the foodie scene you love and another one to keep up with your friends and family.
The fact that additional profiles are, to all intents and purposes, sub-accounts under the main one, there is no need to log in and out of profiles -- you can simply switch as and when required.
Some features of Facebook, including Dating, Marketplace, Professional Mode and payments, cannot be used in additional profiles, and at launch there are messaging limitations:
To start, messaging will be available within the Facebook app and on the web for additional personal profiles. We plan to expand Messenger support for additional profiles in the coming months.
Full details are available here.