Could Samsung save webOS from HP executioners?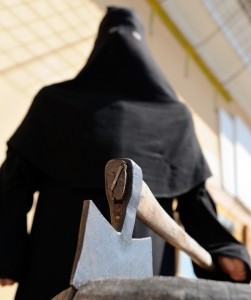 Despite its denials, Samsung still appears to be making a move for HP in some form. Reports had surfaced last week that the South Korean electronics maker was interested in purchasing HP's consumer PC business. The company quickly denied the rumors in a terse statement, calling the reports "not true".
The same publication that first published those rumors -- Taiwanese technology daily DigiTimes -- has come back saying that Samsung has hired a former HP executive to head its PC business, and also may be interested in HP's WebOS platform.
Raymond Wah had served as HP's vice president of its Personal Systems Group, which includes the consumer PC business. DigiTimes claims that Wah would head up Samsung's personal computing arm, suggesting that, whether or not there is a HP acquisition, the company is planning to solidify its position in the consumer PC market.
Sources said that there was some concern that an acquisition could adversely affect Samsung's high profit margins in its display and DRAM chip divisions. This could be forcing the company to build out its own computer division rather than look to the outside.
As a result, the company could be looking to HP's webOS rather than its consumer PC division, which could generate better margins overall. DigiTimes' sources also said the move could be defensive following Google's acquisition of Motorola Mobility.
While Google has repeatedly said that its move into the hardware business would not threaten the "openness" of Android, there has been some unease among partners over its implications.
Acquiring the rights to webOS would also give Samsung additional leverage in the mobile market. The company already has its own in-house smartphone operating system in Bada. Samsung would then be able to hedge its bets and have devices across four different mobile platforms: Bada, webOS, as well as Android and Windows Phone.
Android is already the top selling platform for Samsung. It has also seen dramatic growth in Bada, now outselling Windows Phone devices worldwide after less than a year on the market.
A diverse lineup protects Samsung from any changes in the relationship with Google over Android, or what could be a failure for Windows Phone to gain traction in the market, or even waning interest in Bada. It seems as if Samsung is intent in ensuring its mobile business will survive any possible detour in the mobile landscape.
HP's sudden killing off of webOS devices leaves the operating system's future in doubt. Surely it could do no better at Samsung than HP.
Some developers are joking that a purchase of webOS by Samsung could put the platform on better hardware than HP ever did, something it had roundly been criticized for.
"Imagine if Samsung bought webOS and paired it with some top-of-the-line hardware," software developer Joe Hewitt tweeted on Monday. "Maybe more than 3 developers would write webOS apps."
Photo Credit: Dmitry Vinogradov/Shutterstock