Will you buy the Samsung Focus S Windows Phone?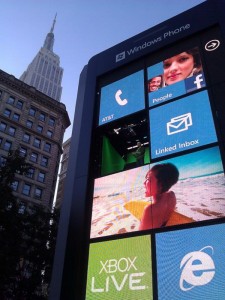 We've given so much attention to iPhone 4S and Samsung Galaxy S II that Windows Phone looks mightily neglected. It is, and that needs to be remedied. If S2's 4.3-inch screen size, Super AMOLED Plus display, thinness and 8-megapixel camera appeal to you -- but not Android -- Samsung Focus S may be for you. The Focus S and Galaxy S2 share much in common. Call them fraternal twins or near-identical cousins, but these two handsets are kin.
I apologize. In the rush to cover AT&T's new LTE phones, which went on sale yesterday, we overlooked Samsung Focus Flash and Focus S; they also debuted November 6. Like the Galaxy S II skyrocket, where we asked "Will you buy?", the same question comes for the two Windows Phone 7.5 Focus models that went on sale yesterday. Will you buy one, or have you already? Please answer in comments or email joe at betanews dot com.
These are the Windows Phones you've been waiting for -- at least from AT&T. The two new Focus models up data speed with HSPA+ support and deliver Mango, the newest version of Windows Phone 7. If you're on T-Mobile, then it's HTC Radar 4G for you, offering similar benefits. But what sets Focus S apart is what it shares with the hot-selling Galaxy S II. Quick comparison:
Galaxy S II: 1.2GHz Samsung Exynos dual-core processor; 4.27 Super AMOLED Plus display with 800 x 480 resolution; capacitive touchscreen; HSPA+/UMTS/GSM/GPRS/EDGE; 1GB RAM; 16GB storage (expandable to 32GB with microSD card; 8-megapixel rear-facing and 2MP front-facing cameras; 1080p video capture; Bluetooth 3.0; WiFi "N"; Near-Field Communications (NFC); 1650mAh battery and Android 2.3.4.
Focus S: 1.4GHz Qualcomm MSM8255 single-core processor; 4.27 Super AMOLED Plus display with 800 x 480 resolution; capacitive touchscreen; HSPA+/UMTS/GSM/GPRS/EDGE; 1GB RAM; 16GB storage (expandable to 32GB with microSD card; 8-megapixel rear-facing and 1.3MP front-facing cameras; 720p video capture; Bluetooth 2.1; WiFi "N"; 1650mAh battery and Windows Phone 7.5. Note: I could not find RAM from AT&T, Microsoft or Samsung. Different product reviewers cite 512MB and 1GB. I bet on the higher number, which is same as S2. Both phones sell for $199.99 with 2-year contracts. Update: Amazon Wireless offers the Focus S for $149.99 (but backorderred 8 to 9 days), Focus Flash for one penny and Galaxy S II for $144.99.
Weight: 3.9 ounces for Focus S and 4.3 ounces for Galaxy S2. Dimensions: 4.96 x 2.60 x 0.35 inches for the Android and 4.96 x 2.63 x 0.33 inches for the Windows Phone -- that's 8.9mm for the S2 and scant 8.55mm for Focus S. Battery life is all over the place. AT&T and Samsung say 6.5 hours and Microsoft 9 hours. I can only guess, but say this: Battery life on my Galaxy S II AT&T model is exceptional. Surely the Focus S must be as good. The Android has Gorilla glass, but I haven't confirmed same is true of the Windows Phone.
For buyers concerned about size, shape, thinness, display size, screen resolution, 4G data speed, storage capacity, storage expandability and main camera, these phones are twins enough. The decision should weigh more towards operating system and supported applications (Android has more than Windows Phone to choose from, but only the ones you need matter). But subtle differences may matter to other buyers -- single- versus dual-core processor, 720p versus 1080p video recording and 1.3MP versus 2MP front-facing camera. Processor is immaterial to me, if OS and apps are fast and fluid enough. But the 720p video recording would put me off. What about you?
The S2 and Focus S are similarly plastic encased, whereas the smaller Focus Flash is metal. By the way, Focus Flash has same processor as the Focus S and similar capabilities but with 3.7-inch display, 5MP camera and significantly lower subsidized price: $49.99. Flash buyers also receive a $25 app gift card.
To promote the new Windows Phones, Microsoft held a special event earlier today in New York City's Herald Square, putting up a six-story Windows Phone, from which Far East Movement played.
"Windows Phone will help change the way people look at smartphones", Andy Lees, president of Microsoft's Windows Phone Division, says. "Other phones have you wade through a sea of apps, while we bubble up all the things that are important -- centered around the people that matter to you most".
Windows Phone won't change anything if people don't buy. Will you? Buy Focus Flash or Focus S? If so why?
Photo Credits: Microsoft