Sony applies Xperia brand to Android Tablet S, adds Windows-like customizations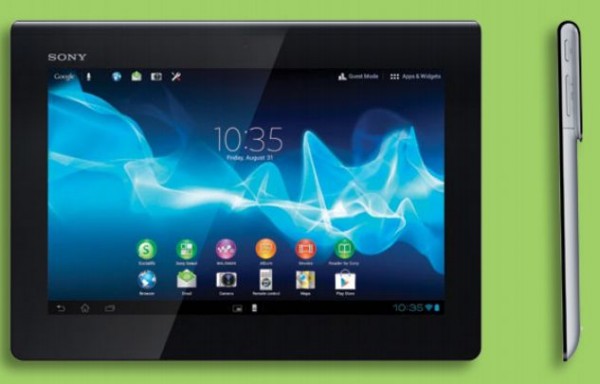 At IFA in Berlin, Germany on Wednesday, Sony Mobile Communications debuted its second generation Android-powered Tablet S, which Sony has now merged with its Xperia smartphone brand.
Sony's first generation of Android-based tablets offered extremely different designs from the whole crowd of first generation Android tablets, yet despite their unique appearance, they entered the market with a "thud" rather than a "boom." The wedge-shaped Tablet S was introduced at the same time as the much more interesting Tablet P, but the two devices entered the US market six months apart.
It seems as if the two devices cancelled each other out by being revealed simultaneously, then separated at launch.
Sony avoided this mistake today by introducing just one Android tablet, the second-gen Tablet S, now known as Xperia Tablet S. The device has a 9.4" (1280 x 800) display, is powered by an Nvidia Tegra 3 quad-core ARM Cortex A9 processor with 1GB of RAM, and runs Android 4.0.3, the incremental release of Ice Cream Sandwich. It comes in 16 GB, 32 GB, and 64 GB configurations and supports microSD cards for expanded storage. It has an 8 megapixel rear camera, a single megapixel forward-facing camera, and currently only offers Wi-Fi and Bluetooth wireless connectivity.
The body of the tablet is 8.8mm thick (compared to the iPad 3's 9.4mm) and is made of aluminum rather than the previous generation's plastic. It also features a "splashproof" design with a low-friction screen coating.
Sony's version of Android has included some nice Windows-like features not present in other builds: multi-user "owner" and "guest" modes for families with children likely to use the tablet, "Small apps," which are multitasking apps and widgets that open in dockable windows on top of other apps (Sony mentions calculator, timer, and voice recorder apps that can be used in this capacity,) and also a news, video, and social feed aggregator called Socialife.
But as BetaNews contributor Paul Weber pointed out earlier in August, the real tablet battle isn't between hardware companies and software platforms. It's between content ecosystems. As such, Sony connects the Xperia Tablet S to its content ecosystem with "original media apps" that tie into Video Unlimited, Music Unlimited, and the PlayStation Store in addition to Google Play. Since a major component to Sony's overall entertainment package is television, the Xperia Tablet S additionally includes IR blaster functionality and the exclusive Watch Now app which lets users browse a customized TV guide, touch an item they want to watch and "throw it towards the TV." The TV channel will automatically change to what the user selects via the universal remote.
In the US, the Xperia Tablet S can be pre-ordered through Sony's website, and the different models are priced at $399, $499, and $599 depending upon the internal storage configuration.