Sony's dual-screen Tablet P finally coming to U.S. via AT&T next week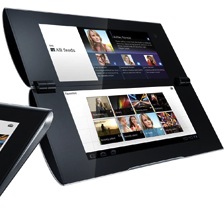 Sony's foldable, dual-screen Android tablet, known simply as Sony Tablet P will finally be available in the United States beginning on March 4, for $399 with a two-year contract with AT&T or $549 off contract.
Sony first revealed the uniquely designed clamshell tablet almost one year ago along with the wedge-shaped Tablet S, which has been available in the U.S. since last August.
The "P's" claim to fame is naturally its design, which utilizes two 5.5-inch displays that can be used for gaming on one screen with controls on the other, or checking email on one screen while using the other as a keyboard. Like Android's other notable dual-screen device, the Kyocera Echo, the screens can be locked side-by-side and used as a single screen.
It is powered by a dual-core 1GHz Nvidia Tegra 2 processor with 1GB of RAM running Android 3.2. It has a 5 megapixel rear camera and a VGA forward facing camera, 4GB of built-in storage with a microSD supporting cards up to 32GB in size. In addition the the HSPA+ connectivity, the Tablet P offers Bluetooth 2.1 + EDR and 802.11b/g/n wi-fi.
We've handled the Tablet P several times over the last ten months, and we can say it's definitely got its own thing going on. The size, design, and the name itself remind us of the pocket-sized Vaio P from 2009, where it is almost pocketable, almost lap-friendly, and almost powerful and feature-rich enough for it to be somewhat attrctive.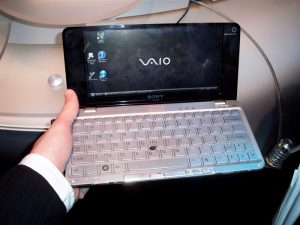 But because of the uniqueness of the hardware, the Android software has been heavily customized, and this practically assures less frequent software updates for the device. Sony however, reportedly will be providing an update to Ice Cream Sandwich for the device some time in the spring.