A third of Android devices now run Ice Cream Sandwich and Jelly Bean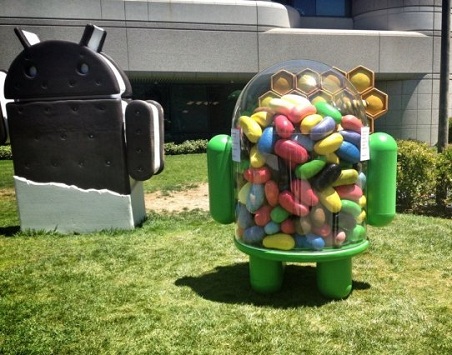 Jelly Bean may be the youngest member of the Android family, but it's also enjoying some amazing month-on-month growth, based on the number of devices accessing Google Play during the 14 days ending December 3. It still has some way to go to match Gingerbread though, which is yet again the green droid ruler.
On November 13, the search giant introduced its latest sugary treat, Android 4.2. Three weeks later, the new version of Jelly Bean had claimed a distribution level of 0.8 percent, a number aided by Nexus 4 and Nexus 10 sales, and Galaxy Nexus and Nexus 7 upgrades. That growth however, pales in comparison to 4.1 Jelly Bean which is now found on 5.9 percent of green droid devices, an increase of 118 percent when compared to the previous figures released in early November.
The distribution level of the first Jelly Bean iteration is likely influenced by sales of newer Android 4.1 devices, such as the Samsung Galaxy Note II and Galaxy S III. The former recently posted sales of five million units, while the latter is even more popular, having sold in excess of 20 million units since early September.
Ice Cream Sandwich, versions 4.0.3 to 4.0.4, reached a distribution level of 27.5 percent among Android devices, which represents a slight increase of 1.7 percentage points compared to the previous data set released by Google. However, for the first time the Android 4.x branch is now found on little more than a third of droid devices and will likely fall further as newer versions of the operating system become more popular and relevant for the ecosystem.
The tablet-only Honeycomb posted a distribution level of 1.6 percent, with versions 3.1 and 3.2 accounting for 0.4 percent and 1.2 percent, respectively. The former variant displays consistency for the past few months, while the latter is losing ground slightly from the 1.4 percent reached in November.
Gingerbread remains the most popular sweet treat in the family, achieving 50.8 percent green droid distribution. Versions 2.3 to 2.3.2 account for a slightly insignificant 0.2 percent, while variants 2.3.3 to 2.3.7 run on a whopping 50.6 percent of Android devices. Compared to the previous data set, Gingerbread fell by 3.4 percentage points, which shows that the king is slowly losing its crown to the newcomers.
Android 2.2 to 1.5 only accounts for a 13.4 percent distribution level. Froyo is the most popular of the group and runs on 10.3 percent of green droids, while Cupcake has faded to 0.1 percent. Eclair and Donut are found on 2.7 percent and 0.3 percent of Android devices respectively.
Animoca, a cross-platform app publisher for Android smartphones and tablets, posted its own distribution numbers based on the company's internal data for November 2012.
In the United States, 46.1 percent of Animoca Android users run Ice Cream Sandwich and Jelly Bean, with version 4.0.4 accounting for a 31.4 percent distribution. Gingerbread, version 2.3.6, on the other hand only runs on 21.5 percent of green droid devices. However, in South Korea the two operating system iterations are found on 51.7 percent of Android smartphones and tablets.
But the two sets of data are mostly an apples-to-oranges comparison. Animoca focuses on the United States, which is a more mature economic market with 116.5 million smartphone subscribers, while Google provides a more accurate Android distribution figure based on worldwide Google Play access. The latter also takes into account emerging markets.