Microsoft takes the wraps off Windows Azure Media Services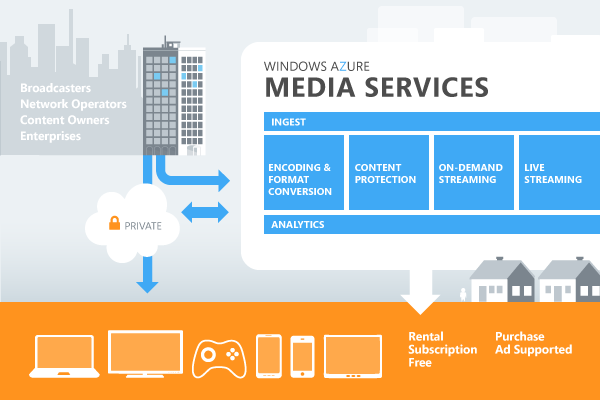 Microsoft's efforts to improve the company's cloud platform, Windows Azure, most definitely do not fly under the radar. Over the past few months the software giant brought Windows Azure Services to Windows Server 2012, introduced a plethora of new features for its cloud platform, updated the Windows Azure SDK for .NET and, on Tuesday, announced the general availability of Windows Azure Media Services.
Windows Azure Media Services is basically a Media Platform as a Service or PaaS, as Microsoft likes to call it, that allows users to implement video streaming, using various formats, to Android, HTML5, iPad, iPhone, Xbox, Windows 8 or Windows Phone, among other supported clients. Developers can control Windows Azure Media Services through REST APIs or Java SDK and .NET SDK in order to build an automated media workflow which can upload, encode and stream video.
In order for Windows Azure users to introduce media applications for the above mentioned platforms, which also include Flash Player and Embedded devices such as connected TVs or IPTVs, Microsoft offers SDKs (software development kits) as well as player frameworks.
Through Windows Azure Media Services, users can upload files to the server over an HTTP or HTTPS connection using an AES-256 encryption, touted as a solution for smaller sets of files and periodical uploads, perform bulk uploads, which is designed for vast media libraries. Blob to blob transfers and in-between storage accounts transfers are supported as well as uploading content through the Windows Azure Portal.
Using REST calls, the Java SDK or .NET SDK, users can take advantage of automated initialized encoding jobs, that are processed and scaled by Windows Azure Media Services. On top of the reserved capacity encoding support introduced in late December, Microsoft unveiled reserved capacity support for on-demand streaming, as well as dynamic packaging. The latter feature permits users to store a single file format and automatically stream to a high number of adaptive protocol formats.
Microsoft says that live streaming is planned for a future release and that it is currently available as a private preview, with a public preview to follow afterwards. Windows Azure Media Services is at the moment "live in production" and available to be used for projects. An Enterprise SLA (Service Level Agreement) is implemented.