Samsung completes the carrier quadruple-play with Fascinate on Verizon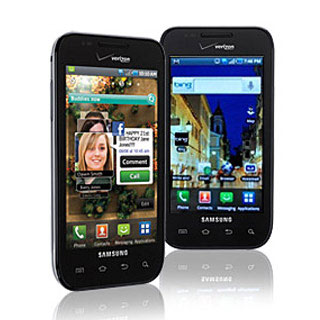 Samsung's Gigaherz class, Android-powered Galaxy S line of smartphones will be available on all four major U.S. wireless carriers this week with the launch of the Fascinate on Verizon Wireless.
Verizon Wireless and Samsung today announced the Fascinate will be available tomorrow (September 8) online and the following day in stores for $199 after rebate and two-year service contract.
Like the Vibrant on T-Mobile, Captivate on AT&T, and Epic 4G on Sprint, the Fascinate is powered by Android 2.1 with Samsung's <!article id="1279815075">TouchWiz 3.0 user interface, is driven by the 1GHz Cortex A8 Hummingbird processor, and has a 4" Super AMOLED touchscreen. In most respects, the device is is identical to the Vibrant, except it is equipped with Verizon-compatible CDMA radios.
Samsung is releasing a Galaxy S device on the top six wireless carriers in the United States, and the addition of the Fascinate completes the "big four." Later in the fall, <!external href="http://www.samsung.com/us/news/newsRead.do?news_seq=19677&page=1&gltype=localnews">U.S. Cellular and Cellular South will be getting a Galaxy S device too, but they will likely be re-branded versions of some of the four that have already been released.
<!image id=5115 center>
This multi-carrier support has proven to be a great boon for Samsung. On August 30, the company announced it had already shipped <!external href="http://www.digitaltrends.com/mobile/samsung-galaxy-s-sales-top-one-million-in-u-s/">one million Galaxy S devices in forty-five days, and at that point only two of the four models were even available.