CES 2011: Seven tablets you should know about

Some are calling the year 2011 the year of the tablet, and from the looks of what's coming out of CES this week it certainly seems the case. For much of 2010, Apple's iPad ruled the roost and sold an estimated 10 million units.
The only serious competitor to appear was Samsung's Galaxy Tab, which debuted in September and sold 600,000 units in its first month alone. The success of the Tab showed that there may be a market for an iPod competitor, which should be heartening to these new entrants.
Here is the seven most exciting tablet computers coming out of CES that we think you should know about (in no particular order). You may see a common theme here -- many of them run on Android, which means 2011 could very well also be the year Android breaks out of its primarily phone-based shell.
1. Dell Streak 7
Dell's first entrant into the 4G world is its Dell Streak 7 tablet, which will come to T-Mobile USA's network later this year. The device includes a 7-inch screen and a dual core processor. The negative here would be the fact that it will run Android 2.2 out of the box, however Dell said it would be upgradable to Android 3.0 "Honeycomb" when that releases later this year.
A 10-inch version is also on its way, and was briefly shown by the company at the show.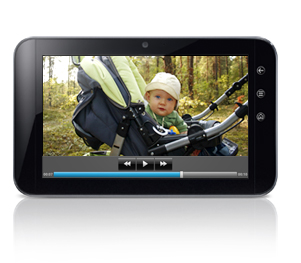 2. Toshiba "Tegra 2"
Although Toshiba's tablet hasn't exactly been named yet, the device would run on NVidia's Tegra chip technology. While the demo device shown to CES attendees is running Android 2.2, it should ship with Android 3.0. It's a little bigger than the streak with a 10-inch screen.
A cool feature with this tablet is the technology included called "Resolution Plus." Just like modern DVD players, the standard definition video is upconverted to appear as high definition. It will also include front and rear facing cameras, as well as Mini USB, USB, HDMI, and microSD card slots.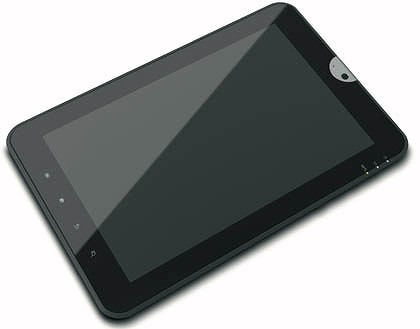 3. Motorola Xoom
Our own Tim Conneally got to take a look at this planned tablet, although it was only a shell. Regardless, we got some early word on the specs: Android 3.0, dual-core 1GHz processor, front and rear-facing cameras, HDMI, and data support from Verizon Wireless when it releases later this quarter.
For those wishing to take advantage of Verizon's 4G LTE network, an attachment would be offered in the second quarter of this year. See this video from Tim for a little bit more on the Xoom.
4. RIM PlayBook
We've covered the PlayBook at length here, from being the first to actually confirm the true specs of the device back in July to its official unveiling in September. RIM is using the platform of CES to further build hype for its product, and we now know the company is moving up its launch goals to this quarter, a quarter earlier than expected.
Charles Arthur of The Guardian spoke with RIM's John Wong about the device:

5. Lenovo IdeaPad U1/LePad
Lenovo's entrant is somewhat interesting, because at first it really is not a tablet. It starts out as a 10.1-inch netbook running Windows 7. However, when detached it becomes the "LePad," running Android 2.2.
The computer's shell is almost like a case of sorts, and the screen is the tablet part that detaches out. Lenovo actually showed a similar product last year, however at that time they had planned to use a proprietary operating system developed in-house.
Now, the tablet portion can be purchased separately, giving the "LePad" portion a competitive $500 price point. Add the case that makes it a laptop, and the price shoots up to $1,300.
Erin Malinowski of Wired explains how it works:

6. Vizio Via
Thought Vizio just made HDTV's? Think again. The company is one of the many trying to make a splash at CES with its Via tablet. Like many of its new competitors, it is also running Android and sports an 8-inch screen. Those that have seen it up close say the sharpness beats that of the iPad: this could be explained by the fact that the iPad's screen is almost two inches larger.
Initial models of the device will include 802.11n and Bluetooth connectivity, although it would have the capability down the road to support cellular data, the company says. Mini-HDMI is supported, and not surprisingly the device includes IR support so you can use it as a remote control.
(We should note that Vizio also debuted an Android phone at the show as well. Here's hoping the phone and tablet are as budget-minded as their HDTVs are known to be!)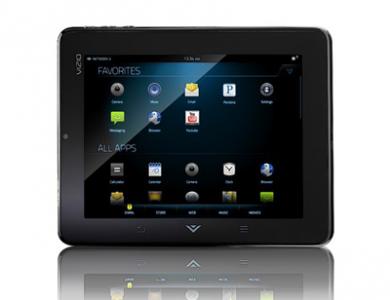 7. NEC LT-W
NEC's entrant, the LT-W, breaks the single screen mold of the traditional tablet, although from what the company is saying, is still a long ways off. Launch in Japan isn't expected for another six months, and the company has yet to specify if and when it would be launched internationally -- likely in any case wouldn't even bear the NEC brand (the company licenses its work to others).
Either way, the dual screen tablet opens like a book, which leads me to believe that this device may have a future as an e-reading device of sorts. Unfortunately, it uses resistive technology for the touch screen functionality, which means the display may not be as sensitive as some tablet users may have come to expect.
With its bulky industrial look and seemingly less consumer appeal, this type of tablet may see more commercial applications. NEC isn't sure either -- the company plans to make it available for partners and see where it goes from there. Thus, maybe the company is just trying to make its mark in a tech sector where everyone seems to be these days.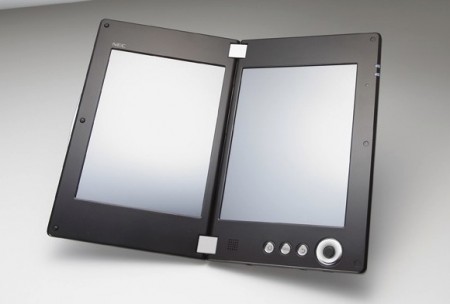 This is just a partial list -- believe us -- of the tablets floating around CES 2011. We'd be interested in hearing what other tablets you've seen out there at the yearly confab that have caught your eye.