iPad is not a PC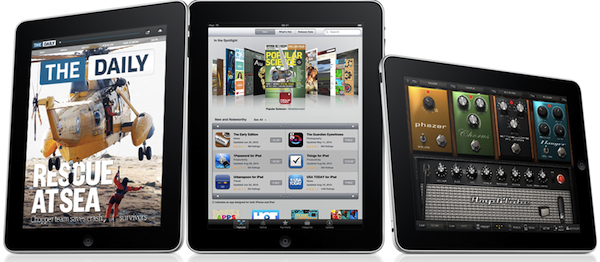 Last week, DisplaySearch joined Canalys classifying iPad as a personal computer. Canalys claims that iPad lifts Apple to third place in global PC market share. DisplaySearch puts Apple No. 1 in the United States by similar reckoning. The Apple fan club of bloggers and journalists delighted in the DisplaySearch data, gifting Apple with "its No.1 headlines." I write to correct the record about Macs outselling Windows PCs. They don't, and you can put your wishful thinking back in the draw or closet from whence it came. Apple's tablet is not a PC.
In August 2010, I asked: "Is Apple the real US PC market share leader -- or soon will be?" That could only be if iPad classified as a PC. I write posts like that one to get people thinking, to look at something from a different perspective. Also, based on iPad's functionality and available applications, it was legitimate consideration -- Apple's market share would be so much greater if iPad was a PC.
Neither Gartner nor IDC count iPad as a PC, and IDC's classification is all wrong -- or so I say. The analyst firm classifies as "media tablets" slate devices ranging in size from 5 inches to as much as 14 inches and running so-called lightweight operating systems, such as Apple's iOS and Google's Android OS, on ARM processors. However, IDC classifies tablets running Windows on x86 processors as PCs. It's a simply shortsighted categorization that ignores how the devices are used.
Based on usage, iPad is not a PC. That's my analysis, which I haven't explicitly stated until today. (Tip: My posts often don't reflect my personal opinion unless I explicitly say so; many readers wrongly have assumed I see iPad as a PC. I raised the question for others to answer. Today I offer my own answer for the first time.)
As long as iPad requires a PC for activation and to receive operating system updates, it is a dependent device. Apple's tablet requires a PC to fully function. By comparison, I would rank the new generation of Android 3.0 "Honeycomb" tablets as PCs, based on function. Multi-core processors, improved graphic performance and Honeycomb will make tablets like the HTC Flyer, Motorola XOOM and Samsung Galaxy Tab 10.1 PC replacements for many buyers. Android has never been dependent on PCs. Account activation takes place from the device and all updates are sent over the air -- that is directly to the smartphone or tablet.
By the "it's dependent" reasoning, Canalys and DisplaySearch are both wrong to classify iPad as a PC. Many Betanews readers have expressed similar opinion in comments, and they're do some recognition.
"Only thing that should be considered a PC is a device that I can use and not need any other device," writes Matt Shulman.
"I don't care how they categorize the iPad, but they need to employ some logic and some common sense instead of using arcane and unhelpful definitions that parse the computing industry into a bizarre and seeming random combinations," John Kirk observes. "Gartner uses a definition of 'Tablet PC' that pretty much can only include Windows Tablets. Then they merge together tablets like the iPad with dedicated book readers like the Kindle. Then the[y] call netbooks PCs. It makes no sense." I agree with that.
"On [Mac OS X], I can create software and sell it," writes Steve Smith. "Done. On the iPad I can make software and maybe get the approval of apple to sell it." DaveN: "If an iPad is a PC, then a bicycle is a car. And I'm not trying to disparage either the iPad or the bicycle."
I say iPad is not a PC, yet would classify Android tablets as PCs -- or at least enough to be used independently of personal computers enough to replace them. What do you think? Please answer in comments.