Acer shows off Windows Phone Mango handset, MeeGo tablet

Taiwanese PC maker Acer took a rather sudden hit last April when Gianfranco Lanci resigned as CEO of the company, saying it should have been focused on competing with HTC and Apple in the mobile space instead of with HP in the PC space.
At the Computex trade show in Taipei, Acer this week has shown off its scattershot approach to covering the mobile device market, which will include, among other things, a 10" tablet running Intel's MeeGo operating system, and a Snapdragon-powered smartphone running Windows Phone 7 "Mango."
Mango Phone- Acer W4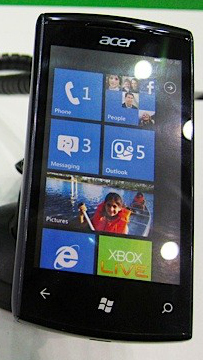 Acer was one of the new Windows Phone hardware partners Microsoft announced last week, and the company has been showing off a device running Mango tentatively called the Acer W4. It has a 3.6" (480 x 800) touchscreen, is powered by a 1GHz Qualcomm MSM8255 Snapdragon processor, has "up to" 8GB of onboard storage, a 5 megapixel camera, and Quad-band GSM and HSPA 800/1900 or 900/2100 connectivity.
Pricing and regional availability have not been announced for this device yet. However, it will join Fujitsu, ZTE, and Nokia in the first crop of Mango-powered smartphones which are expected to arrive around October 2011.
MeeGo Tablet- Iconia M500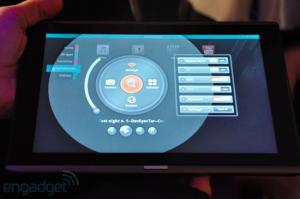 Acer's first public spin with MeeGo was back at Mobile World Congress 2011 in February, when Intel announced the MeeGo Tablet UX, and mentioned Toshiba, Fujitsu, Asus, and Acer would all be participating in the project. In May, when Intel officially launched its Oak Trail chip for tablets, the company promised MeeGo tablets as early as May.
The M Series Acer showed off at Computex, however, runs on a Moorestown Atom processor. Aside from that, it has a 10" (1280x800) touch display and chassis very similar to the Iconia Android prototype that made its way around the trade shows earlier this year. That particular model, however, launched at retail very shortly after being officially announced, so there is a distinct possibility that Acer could bring this MeeGo tablet to market in an expedient fashion.
MeeGo, meanwhile, is a big topic of discussion at Computex this year, and in addition to Acer's tablet, the Linux-based mobile OS was shown off on notebook computers by Lenovo, Samsung, and Asus. The official MeeGo site, however, has been down for most of the day.