Can Galaxy Tab 10.1 be the Rocky Balboa of tablets?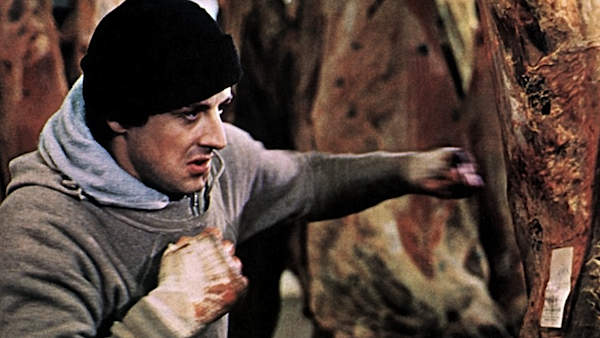 In this corner, measuring .34 inches thick and weighing in at 1.3 pounds, is the Korean Demon, Samsung Galaxy Tab 10.1. Its opponent, the svelte-weight champion of the world, the Pride of Cupertino, Apple iPad 2, measuring .34 inches thick and weighing 1.33 pounds.
A Worthy Opponent
If there is a tablet with the chops to topple the champion, Tab 10.1 looks to be it. But like 1976 classic movie "Rocky," the challenger has a daunting bout before it. Most analyst projections put iPad's global media tablet market share above 80 percent. Apple offers iPad 2 through tens of thousands of retail outlets and more than 300 of its own stores, globally. Now inside those stores, every person looking for product information on any other Apple product uses iPad 2 to get it.
Samsung's tablet enters the ring with iPad 2, starting this week. Galaxy Tab 10.1 officially launches June 17, but will be available June 8 from one store only -- the Best Buy Union Square in New York City. Last week, Samsung hosted two meetups, in New York and San Francisco, for tech geeks and Android enthusiasts.
By the specs, Tab 10.1 is an an impressive challenger: 10.1-inch capacitive touchscreen with 1280 x 800 resolution; 1GHz dual-core processor; 16GB, 32GB or 64GB storage; microSD slot expands storage up to 32GB; 3-megapixel rear-facing camera with LED flash and 2-megapixel front-facing camera; 720p video recording; 1080p video placback (at 30 frames per second); WiFi N; Bluetooth 2.1 + EDR; accelerometer; ambient light sensor; digital compass; gyroscope; and Android 3.1 "Honeycomb."
By comparison, iPad packs: 9.7-inch capacitive touchscreen with 1024 x 768 resolution; 1GHz dual-core processor; 16GB, 32GB or 64GB storage; rear-facing camera and front-facing cameras (Apple won't reveal megapixels); 720p video recording; 720p video playback; WiFi N; Bluetooth 2.1 + EDR; accelerometer; ambient light sensor; digital compass; gyroscope; and iOS 4.3.
The Galaxy Tab 10.1 has higher screen resolution, slighter larger display, better camera (with flash), full HD video playback and expandable storage. Does worthy contender mean winner?
Braun vs Finesse
Apple has been out-specced before, with iPod and iPhone, and still bested contenders. There's a difference between offering more and offering more of what people want. About six years ago, I remember seeing a tiny Samsung MP3 player touting remarkable battery life. Was it 24 or 48 hours? I don't recall. But the touted battery life wasn't that much of a benefit because it far exceeded playback capacity -- well, unless the user wanted to listen to the same few songs over and over.
More is a tried-and-failed marketing strategy. More of what people want, or effectively marketing features so that buyers want them, is Apple's secret ingredient. I'm simply stunned how few competitors grok the basic concept.
<!image id=7023 center>
Samsung's Gavin Kim talks to reporters, June 3, 2011
During Samsung's San Francisco event, I joined other reporters chatting with Gavin Kim, vice president of Content, Data Services, and Enterprise Mobility at Samsung Telecommunications Americas. I found Kim to be friendly, knowledgable and engaging. He also had been well coached in evasive media tactics. He rarely directly answered a question, sticking more to prepared talking points. Journalists hate this, but Samsung should be satisfied.
The problem: I've heard these kind of answers before, for years, by companies taking on Apple in consumer electronics and failing. Samsung among them. Kim touted hardware features like lighter weight, nVidia chipset and HD playback -- all differentiators. But, who other than geeks, will care?
In a long, wordy question, I asked Kim about peripherals. One of iPad's biggest competitive advantages is third-party support. There are lots of extras, particularly cases, available for iPad. There is little to no choice for competing tablets. Kim proudly produced a single, basic black case that folds out into a stand. Well, hey, that kind of style has been around since the original iPad released in April 2010. There are dozens of iPad cases to choose from -- not just one.
The "Choice" Assault
Kim emphasized the importance of choice, something he asserted consumers will have with Android 3.1 and Galaxy Tab 10.1 more than with iPad 2. For example: Chat. Apple offers FaceTime, but there are many more chat software apps for Android -- and these are products users might already be using today. (Actually, there are several very good alternatives to FaceTime available for iOS, including Skype.)
That raised the topic of apps, which seems to me to be Honeycomb's biggest shortcoming compared to iPad 2. Kim stated that the standard Android apps will run on v3.1, which is correct. But the majority are designed for smaller cell phone displays. The great user experience he touted from the hardware demands native apps. Right now, there aren't enough for Android tablets. Ironically, that comes back to choice, which cuts for and against Tab 10.1.
Microsoft beat the choice drum for years, as sales tactic against against iPod and iPhone. The counter-marketing strategy flopped. Again, it's not about offering more choices but the things buyers want most to choose. Besides, the choice argument collapses when confronted with iPad's huge lead in number of apps. If choice matters that much, consumers have larger number of meaningful apps to choose for iPad.
Still, Samsung isn't waiting around for Honeycomb apps and is looking to differentiate its Android 3.1 tablet from competitors. There, Kim made a compelling pitch for Samsung software. Tab 10.1 comes with three "Hubs": Music, with 13 million songs; Media (for videos); and Reader (for ebooks). He touted enterprise middleware as well. Then there is Adobe Flash, which Kim observed isn't available on iPad.
I find the overall marketing messaging, from Kim and Samsung promotionals to be focused but somewhat lacking. There's too much emphasis on choice and hardware features rather than emphasizing what really matters most to buyers: Benefits. "How will my life be better for buying this product?" It's not knock-out marketing, and I question if there's enough there for Tab 10.1 to last 15 rounds with iPad 2. That said, Samsung has done some very good benefits marketing around the 7-inch Tab.
Train Harder, Tab 10.1
Another problem for the tablet version of Rocky: Carriers. In the United States, AT&T and Verizon sell the 3G iPad 2 with no contractual commitment for data. That won't be the case for Tab 10.1, although Kim wouldn't give specifics. He did say that when available from Verizon, Tab 10.1 would support the carrier's hot, new fast mobile network. Early Motorola XOOM buyers must send back their tablets to be retrofitted for LTE. But, based on 7-inch Galaxy Tab, carriers will determine prices for 3G/4G models and mandate data plans. That's a different example of choice, but one that can hurt sales.
So it's smart that Samsung is launching Galaxy Tab 10.1 as WiFi only, and it's no coincidence that based on storage capacity and wireless features prices are identical to iPad 2: $499 for 16GB model and $599 for the 32GB one.
Samsung has another advantage that sets it apart from nearly all other tablet competitors: Massive manufacturing, distribution and retail infrastructure -- and the South Korean company manufactures many of the components used by Tab 10.1 and even iPad 2. If Rocky has any chance of winning, this infrastructure is foundational. As I explained in January, iPod and iPhone were the training ground for iPad, where it bulked up manufacturing, distribution and retail infrastructure crucial to success.
Tab 10.1 is training hard, but I'm wondering if it needs a new coach to seriously contend with iPad 2, particularly on the marketing side. Still, Samsung marketing efforts are starting to impress me, as the Tab 10.1 launch approaches. The meetups last week in New York and San Francisco and exclusive early sale this week are good starts. Samsung is running several contests, and is broadly promoting benefits of every Tab -- three sizes to Apple's one, by the way.
Feature for feature, Tab 10.1 is the stronger competitor. But Apple has tens of thousands of apps, huge market share lead, lots of third-party cases and peripherals and massive brand awareness and appeal. The coming bout will be challenging, even if Galaxy Tab 10.1 hopes to just fight to a draw. Like Rocky did.