Panasonic annnounces Toughbook Tablet, Android's first rugged enterprise tab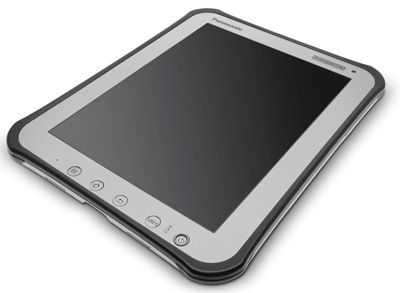 More than 100 different Android device designs have been released over the last three years, but there have only been a handful of "ruggedized" smartphones (Motorola i1, Defy, Casio G'Zone Commando) and no rugged tablets. Thursday, Panasonic announced it will be releasing the first enterprise-grade rugged Android tablet under its Toughbook line in the fourth quarter of 2011.
"The vast majority of tablet devices--regardless of the OS--are engineered for consumers and don't offer appropriate levels of security and durability or the functionality needed for business use," Rance Poehler, president, Panasonic Solutions Company said in a statement on Thursday. "Like all Toughbook products, our Toughbook tablet will be designed and constructed with the mission-critical mobile user in mind."
Currently, though, Panasonic isn't coming forward with the full details about the device, which is on display at InfoComm in Orlando Florida this week. Panasonic only says the 10.1" XGA multi-touch tablet will include embedded security features at the hardware level, optional embedded 3G/4G mobile broadband, GPS, and "full-shift battery life."
We've sent an inquiry to Panasonic Solutions to find out some more about this upcoming Android device.