Say, AT&T, where's Samsung Galaxy S2?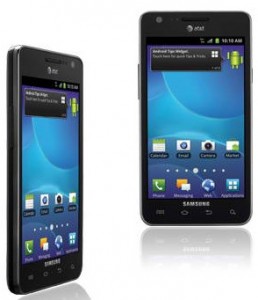 Sprint launched its version, the Epic 4G, on September 16 and AT&T's Galaxy S II was supposed to be available today. Have you seen it? Where is it hiding? What is AT&T doing with it? And if iPhone 5's launch is so close, why wait even one more day?
These are the perplexing questions AT&T is unlikely to answer on a Sunday. So I called my local AT&T store, and a few others, to ask if they're selling the S2 as announced. Nope. One store rep checked AT&T's internal website, where the phone listed as "coming soon". That person expected but couldn't confirm price of "probably one-ninety-nine". Rep at a different store had been briefed on the S2 last week, but not given a selling price. The launch could come in a couple weeks, the rep said. Sprint's S2 is a sweet $199.99 with two-year contract -- and it's available now.
Well, hell, did all of tech news geekdom get the September 18 date wrong? It was widely reported, and I did so myself, based on info released by the carriers and Samsung 10 days ago. I was ready to buy the Galaxy S II today (I'm an AT&T subscriber). The S2 would replace my beloved Nexus S, and I wanted to review the hot smartphone, too.
Since the S2 is such a direct competitor to iPhone 5, I would think that AT&T wouldn't want to jeopardize sales of one for the other. The web is wild with rumors about when iPhone 5 will launch, with October 15 a widely-circulated date. That's a Saturday, by the way, making it an unlikely launch date. Apple more typically launches iOS devices on Fridays. I wouldn't consider any date valid at this point. But I would suggest that unless AT&T isn't worried about pitting one phone against the other, the longer Galaxy S II takes to launch on the carrier the more likely iPhone 5 is coming later.
AT&T really missed out, and perhaps Sprint lucked out. Six days ago, I reposted the Betanews poll asking: "Will you buy Galaxy S II?" We've got an excellent sample now -- 1,312 responses as I write. A stunning 67.99 percent of respondents said they would buy the Samsung smartphone within 3 months. Just 10.29 percent responded "No, I'm getting iPhone". While certainly not all the responses are from Betanews readers, the majority are likely so. Our readers tend to be more technically savvy than the typical person. AT&T should want to capture these sales as soon as humanly possible. S2 enthusiasm should scare Apple execs.
I was thinking of waiting for the rumored Nexus Prime, but consistent, seemingly credible rumors point to a Verizon launch, with availability on other carriers coming later. I'm not a Verizon customer, although if my budget allowed (and it doesn't), I would consider the Samsung Galaxy Tab 10.1 LTE tablet from Verizon.
Some Betanews readers expressed their interest in the Galaxy S2 in comments to my post six days ago. "I'[ll] either switch to Sprint (I have VZW) or buy it for the full price and root it to work with VZW", Justin Gould writes. "I'm also looking at the Driod Bionic". Verizon isn't carrying the S2, opting for the similarly-configured and better constructed (as in metal instead of plastic) Bionic instead.
"Can't", PC_Tool laments. "No VZW version. This should definitely be an option in the pool. Nations largest carrier? Hello?" Edward Hayes: "Europe and Asia has already declared Samsung Galaxy S2 as the Best Phone available. I pre-ordered mine the day after launch from Sprint".
"Got one, iPhone is crApple!" Jester Strause writes. "Removed all Apple software from my PC and Laptop -- ancient technology and because of Apple action against Samsung!"
SAbramson1027: "I have had a Galaxy S2 since about June of this year. I also had the original Galaxy. One hell of a phone and one thing I love about these galaxy's is the constant firmware upgrades and mods that you can find for them. There's a HUGEEE community that works with them".
I've embedded the poll again. We might as well keep collecting buying intentions since Galaxy S II is only available from one US carrier. If you bought one, please share your story. If you wanted to buy one from AT&T today, please share your grievances (or other reaction), too.
For more, please see follow-up story: "Angry AT&T customers want their Samsung Galaxy S II".