Finally, Samsung Galaxy S II is here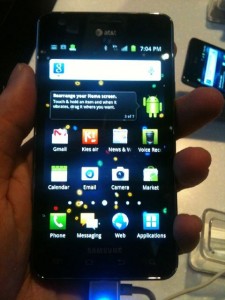 For months Apple has been firing off patent lawsuits against Samsung's newest smartphone and tablet. Despite this barrage of mortar fire, early this evening Samsung landed the Galaxy S II on these shores.
The smartphone many reviewers are calling the "iPhone 5 killer" debuts ahead of Apple's next-gen handset. If you're on AT&T, Samsung's beaut can be yours on September 18. Sprint subscribers can grab the smartphone two days earlier.
Samsung saved the best for last, too. The US versions of the S2 from Sprint and T-Mobile have larger displays than their international cousins -- 4.52 inches vs 4.3 inches. AT&T's variant also is 4.3 inches, but thinner than them all -- 8.89mm, thinner than iPhone 4 (9.3mm). Interestingly, T-Mobile did not give launch date or even announce nomenclature.
It's the Epic 4G from Sprint, by the way. The Sprint variant will sell for $199.99 with 2-year contract. The carrier is taking preorders with -- get this -- purchase of $50 gift card. Well, I presume customers can apply the 50 bucks to their phone purchase.
The Specs
The phones share some things in common: 1.2GHz Samsung Exynos dual-core processor (other variants use the Nvidia Tegara 2); Super AMOLED display (it's viewable in sunlight); Gorilla glass, 8MP rear-facing and 2MP front-facing cameras; 1080p video recording; 16GB storage (expandable to 32GB with microSD card); Android 2.3; and Samsung's TouchWiz UI -- plus all the expected stuff, like Bluetooth, WiFi, GPS, accelerometer, capacitive touchscreen, etc. Samsung and the carriers are touting 4G, via WiMax for T-Mobile and 21Mbps HSPA+ for AT&T and T-Mobile.
Surely all that data speed will appeal to somebody. If there's no 4G iPhone, that's one differentiator these Android beasts will have. Beasts they are. I find 4.3-inch phones to be overly large -- 4.52 inches is insane. Is either size too much for you?
Samsung also is touting features that will appeal to businesses. Can you say consumerization of IT? They are: ActiveSync v14 support; Cisco VPN; Sybase MDM; WebEx.
Samsung introduced the US Galaxy S2 variants during a New York gala this evening. Ed Oswald is there representing BetaNews and will have some photos (and hopefully) video for later on. Watch for them.
Samsung fibs Sales?
"The unveiling of the Galaxy S II is a landmark achievement for Samsung, our carrier customers and consumers", Dale Sohn, president of Samsung Mobile, says in a statement. "Five million Galaxy S II smartphones have been sold around the world and that number increases every day. We believe the cutting-edge design, features and user experience of this innovative device will share the same level of success in the U.S".
But is that sold or shipped? Samsung reached 3 million units after 55 days and 5 million after another 30. But that was 38 days ago. So what? Samsung hasn't sold any more Galaxy S IIs since July 22? The number makes sense if shipments, which would be high to fill the channel. What about sell-through? Based on the 5 million repeated today, actual sales to customers should be questioned.
Samsung announced the Galaxy S II in February, but sales didn't start until about two months later. Six months from announcement to launch in the United States, the world's hottest smartphone market, is unfathomable in the fast-changing market -- and too close to iPhone 5's debut.
For the three months ended July 31, Samsung was the largest handset maker in the United States based on cellular subscribers -- 25.5-percent share, according comScore, which released the data today. Android's smartphone share is 41.8 percent compared to 27 percent for iOS/iPhone.
iPhone 5 Killer
Reviews of the international S2 variants have been nothing less than glowing -- an iPhone 5 killer. "The finest Android phone we've seen so far, the Samsung Galaxy S II isn't just a competitor to the current iPhone. It competes with the next iPhone", writes Sascha Segan for PC Mag.com, giving the smartphone an "Editor's Choice" rating. That last statement is the clincher. Samsung already is one generation ahead of Apple.
"The Galaxy S II's screen is nothing short of spectacular", writes Vlad Savov for Engadget. Praise continues -- from the "onscreen keyboard is terrific" to "general responsiveness is absolutely exemplary". Savov concludes: "It's the best Android smartphone yet, but more importantly, it might well be the best smartphone, period".
For PC Authority, reviewers Jonathan Bray and Nic Healey glow: "The phone is nothing short of remarkable. Its power is unrivalled, its 4.3 inch [screen] is wonderfully bright and colorful, call quality is great and the camera is simply superb".
Phone reviewers should find enough nuances to appreciate among the US models, such as the AT&T variant's slimness or the Epic 4G's larger display and beefier battery.
Photo Credit: Ed Oswald