AT&T Samsung Galaxy S II arrives October 2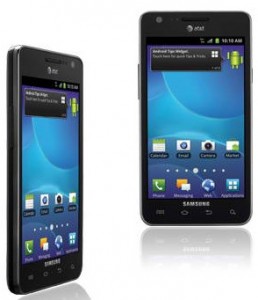 Finally, the news you've been waiting for from AT&T -- and it's not iPhone 5. The Samsung Galaxy S II goes on sale October 2 for $199.99 with 2-year contract and minimum $15/month data plan. No commitment price: $549.99.
That works out to a two-week delay for all the folks (me among them) who were ready to buy, or tried to, just three days ago. Sprint started selling its version, the Epic 4G, on September 16. The question now: With rumors of iPhone 5 launch just two days later (October 4) and next Google Nexus smartphone running Ice Cream Sandwich coming as soon as late next month, do you buy the S2 now or wait? One option is to hold AT&T to that 30-day return policy by buying a week from Sunday and deciding later (it's closest to having your cake and eating it, too).
The Galaxy S II is a late-comer to the United States, and even later thanks to the nation's second largest carrier and no show at the largest (Verizon has decided that Droid Bionic is good enough). Samsung announced the S2 in February and started sales pretty much everywhere else in late April. By July, even before debuting in China, Galaxy S II had set Samsung sales records. Samsung announced the US versions on August 30.
"We consumers in the Australian Market have had access to this phone for a few months now and it is definitely miles ahead of the iPhone 4", Ishraque Siddiqui writes. "I can sympathize with you US folks. I suppose one way to look at it is it will be well worth the wait".
Commenter Marvin couldn't wait:
I'm on AT&T with an unlocked Galaxy S2 bought from Newegg. The phone and AT&T have exceeded my expectations since Sept 1, 2011. So far WiFi, GPS, speedy mobile web and email, clear phone calls and no bloatware have been great. Like many of you I read the glowing reports on this device from all parts of the world and had to have it. Currently, I'm on a monthly contract waiting to buy another S2 (from AT&T) and move entire family to this provider. I empathize with the everyone patiently waiting and trying to hold out with AT&T but there is another way --- Newegg for approximately $585.00 -- unlocked also. Waiting is frustating and unproductive and this postponement will resolve itself with time.
US buyers will be rewarded for their patience. The Sprint S2 (and one coming from T-Mobile) have larger displays than the international models -- 4.52 inches. AT&T's model is 4.27 inches, like its international cousins, but a tad thinner -- 8.89mm (iPhone 4 is 9.3mm).
The phones share some things in common: 1.2GHz Samsung Exynos dual-core processor (international variants use the Nvidia Tegara 2); Super AMOLED display (it's viewable in sunlight); Gorilla glass, 8MP rear-facing and 2MP front-facing cameras; 1080p video recording; 16GB storage (expandable to 32GB with microSD card); Android 2.3; and Samsung's TouchWiz UI -- plus all the expected stuff, like Bluetooth, WiFi, GPS, accelerometer, capacitive touchscreen, etc. There's 4G, via WiMax for Sprint and 21Mbps HSPA+ for AT&T.
When first announced, Samsung listed AT&T model's battery life as a pathetic 3 hours continuous talk time, but has since updated it to 8 hours -- same as the Epic 4G. I assume that corrects a major typo in the specs. Besides its ultra-slimness as differentiator, the AT&T model supposedly has near-field communications, a feature shared with the Samsung Nexus S.
Customer anger at the delay is a measure of enthusiasm for the Galaxy S II.
"I've been waiting for this phone for months and months", Jason Vickery comments. "The phone has everything I want in a phone and then some. And just when I thought I was finally going to be able to pick one of these bad boys up -- nope. Nothing, nada, zero, zilch! So yeah, I guess you could say I am really irritated by the failure to release when specified".
KK Choi: "I've been waiting Galaxy S2 since May 2011. I couldn't wait anymore. Sprint, here I come".
Another measure of enthusiasm: 76.94 percent of the 3,587 people who responded to our poll say they will buy Samsung Galaxy S II within three months. Will you? The poll is embedded above.