Why pay $200 for iPhone 4S, when you can get Samsung Galaxy S II for $2?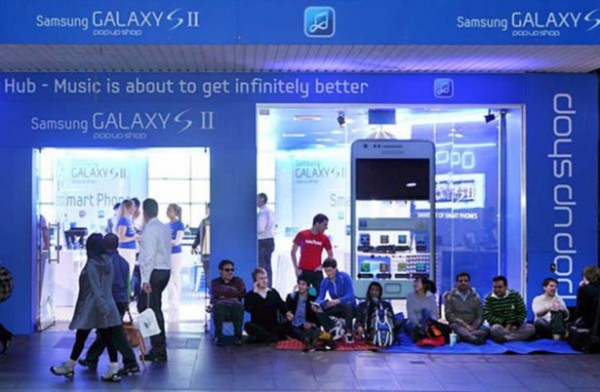 What do you do if you're Samsung, and want to stick it to one of your biggest rivals in the mobile space during what will be their biggest sales weekend of the year? You set up shop right down the street.
That's exactly what Samsung has done to Apple in downtown Sydney, setting up a pop-up store two doors down from the Cupertino company's sole location in the city. The Samsung shop opened its doors on Monday and will be open through this Sunday, overlapping the launch weekend of the iPhone 4S.
Australia has been one of the premier battlegrounds in the legal fight between Apple and Samsung. Apple successfully prevented the Korean electronics maker from selling its popular Galaxy Tab tablets in the country, and has so far rejected any effort to settle.
Samsung is using the location to promote the Galaxy S II as well as the Samsung Music Hub, its online music subscription service. But the real attraction is this: the Galaxy S II for just $2 AUS ($2.03 USD). The phone typically carries a full retail price of $849 AUS ($863 USD) in Australia.
Customers must be among the first ten in line each day to receive the deal. After those first ten, the phone apparently returns to its retail price.
The sales strategy seems to be working: according to this Sydney Morning Herald video and accompanying story, the queue in front of the Samsung store was longer than the Apple store on Wednesday. The iPhone 4S will go on sale at 8:00am Friday.
While the timing may seem on purpose, it could have very well just been serendipitous luck. According to Fife Capital, the company which manages the building that Samsung's pop-up store is located, Samsung came forward to request the space "within the last three months."
Then again, announcements that Samsung would be setting up the pop-up store didn't appear until after the announcement of the iPhone 4S, suggesting that this may have been Samsung's plan all along.