So much for Apple, Samsung sells 300M handsets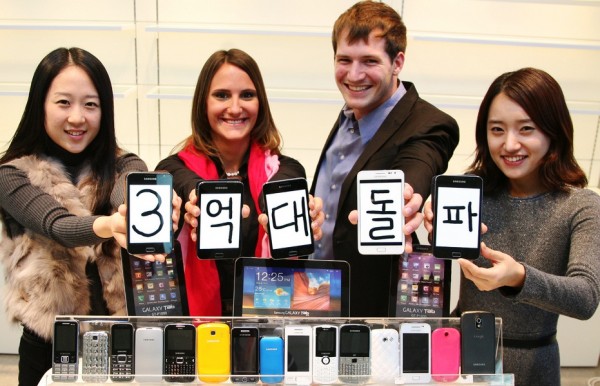 The year isn't over yet, but Samsung is celebrating 300 million handset sales -- a record for the company and a number not to be trifled. The South Korean manufacturer touts success of its Galaxy S and S II lines -- the latter which is available in more than a half dozen iterations globally, and expanding, when adding LTE and white models. AT&T offers two different S II models, 4.3-inch HSPA+ and 4.5-inch LTE.
While an achievement, Samsung sees solid rather than exceptional growth -- so far. The company sold 281 million handsets in 2010, according to Gartner. Still, second and third quarters were exceptional, even by the expectations set for Apple's iPhone. In Q2, Samsung's homegrown Bada smartphone OS -- not yet then a year old -- outsold Windows Phone, according to Gartner. In third quarter, Samsung sold 24 million smartphones -- nearly 7 million more than Apple.
This month, Samsung took aim at Apple with "The Next Big Thing is already Here" marketing campaign that swipes at just about every conceivable iPhone hipster stereotype.
While American bloggers and journalists obsess about iPhone, across the globe Samsung makes huge strides that eclipse Apple. While best known for Android phones like the S2, Samsung has a three-operating system strategy that also includes Windows Mobile/Phone 7 and bada, which shipments grew by 355 percent year over year in second quarter, according to Canalys. Samsung is in process of replacing Nokia in many of its core markets across the Earth.
Through end of September, Apple sold 56.1 million handsets, with some analysts estimated 30 million for the quarter, or less than one-third the number Samsung has sold already.
However, "Samsung has failed to fully capitalize on Nokia's weakened state around the world, as the Finnish company rides out a challenging transitional period", Chris Jones, Canalys principal analyst, says. "It's the best placed vendor to grow at Nokia's expense, taking advantage of its global scale and channel reach, but it hasn't yet done enough to capitalize on this, particularly in emerging markets".
Photo Credit: Samsung